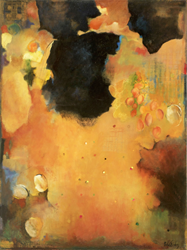 Phoenix, AZ (PRWEB) May 14, 2014
Many believed and even declared the death of abstraction nearly 40 years ago, but artists like Bela Fidel prove that it is alive and flourishing. "Contrast" is a juxtaposition of the abstract work of Bela Fidel and Stacie Schimke, both of whom use abstraction in very different ways. Justin Germain, monOrchid's director states, "Fidel explores minimalist painting in the pursuit of a Zen-like artistic and personal enlightenment while Schimke's current work explores the reality of climate change using abstraction to depict our deteriorating landscape." In both, the importance of abstraction lies in the expressive message, not simply the formal colors, lines and shapes of abstraction's past.
The exhibit will be on display May 1 – 31, 2014. Third Friday Collector's Night takes place Friday, May 16, 2014 from 6PM to 10PM.
monOrchid is located in the heart of the downtown Phoenix arts district at 214 E. Roosevelt Street. The building is open every day from 9AM to 5PM. Originally a DelWebb warehouse constructed in 1937, thirteen years of renovation and invention have morphed the 14,000 square feet building into a unique space for creativity, celebration and culture.
About Bela Fidel:
Bela Fidel was born in Brazil and has been living in the U.S. since 1984. She has developed her artistic skills while traveling extensively throughout South America, Europe, Asia and the mid-East. The richness of her colors and design reflect the various cultures that have influenced her life and art.
Bela paints in oils, encaustic and mixed media and teaches at her studio in North Scottsdale. Bela engages in an ongoing process of exploration to discover innovative ways to capture the viewer in a visual experience that is both unique and timeless, immediate and transcendent.
Her intention with her Zen Series is to find expression with minimalist abstraction while occasionally using geometric shapes. Her work denotes a search for simplicity and elegance which are derived from a subtle, rich quietness in the interaction of the shapes – very much like the silence between a couple that has been together for many years. Her artistic output is a pursuit of "errands of truth" and the viewer is invited to seek and find the emotional and esthetic gifts of her work.