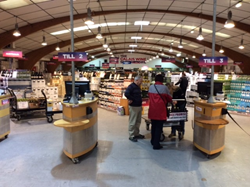 "Everything has been absolutely first class. The selection of wines is good as well; the prices are unbeatable (even amongst the local competition- and I did check) and the customer service is first class." - Nigel
Calais, France (PRWEB UK) 29 May 2014
The era of the booze cruise seemed consigned to the history books, due to the economic crash, fuel increases, the strength of the Euro and cut-price supermarket deals. Hopping across the Channel to go wine shopping simply didn't seem worth it. However with UK wine duty having risen 50% since 2008 and buying wine under £5 a dim memory, the squeezed middle are looking for savings wherever they can.
Enter the 100% independent and British-owned Calais Wine Superstore.
The owners Simon Delannoy and Marco Attard have been in the cross-Channel trade for over 20 years and have poured all their wine knowledge and commitment to excellent service into bringing British customers the biggest savings on both sides of the Channel.
At The Calais Wine Superstore, customers save 60% on UK supermarket prices, which means at least £3 per bottle. Take the Jacob's Creek Trilogy Sparkling wine, which usually retails for £9.99 at Ocado, but is only £2.49 when you buy 6 in Calais. Or the Vina Maipo Shiraz, £6 in the UK, which is available for just £2 at The Calais Wine Superstore.
The reason for these enormous savings is UK excise duty, which accounts for over 50% of the cost of a £5 wine bottle. With UK duty being nearly 100 times that of France, buying wine across the Channel just makes sense. As Mr Delannoy states, "The more customers spend, the more they save!"
The Calais Wine Superstore takes pride in providing excellent customer service and removing the hassle and expense from travelling to Calais. Customers can place a pre-order on the website, which has plenty information on all 500 wines stocked, and ask the store to pay for their Channel crossing. The Calais Wine Superstore is the only wine store in Calais which can book and pay for your Eurotunnel ticket.
However, The Calais Wine Superstore understands that placing a large order for unknown wines may seem risky so they allow requests for free travel without a pre-order. Customers can then browse and select wines in-store – where there are state-of-the-art tasting machines with temperature-controlled wines and a tasting bar with over 50 wines open and which can be tasted for free, every day.
"Even pre-orders can be changed or added to after tasting, says Mr Delannoy, "so our customers are never committed to purchasing a wine they don't like."
The English-speaking staff are always on hand to advise and will go out of the way to provide friendly, personal and knowledgeable service. "We understand that coming all the way to Calais to a huge store can be an intimidating experience, so we aim to make you feel relaxed," says Mr Delannoy.
The Calais Wine Superstore offers a price match guarantee and customers can pay in Sterling cash or cheque in-store.