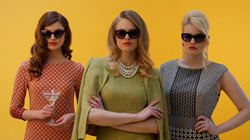 (PRWEB UK) 16 May 2014
The spirit of Spring in a video…
New for Spring 2014 comes the latest womenswear video from T.M.Lewin, showcasing our latest capsule collection of ready-to-wear pieces, each one designed to deliver a flattering and ultra-feminine look, whatever the occasion.
This is the most trend-driven collection to date – fresh and full of surprises.
Adding to the classic women's shirt range comes an extended tailoring collection - encompassing skirts, trousers and dresses - plus a new selection of soft tops and blouses, cashmere knits, jacket coats and accessories.
These elegant and contemporary pieces will create the perfect look for a day in the office, a special occasion or an impromptu evening out with friends.
Prepare for vibrant blasts of colour blocking and clashing prints, where black, white and grey is broken up by bright reds and orange and where the season's. essential shades of blue are complimented by a 50s inspired palette of soft Spring pastels.
Our video, features up and coming model Iris Monroe Baker, recently shot by Rankin for Elle Magazine.
And now for a limited time only, customers can receive 15% off the womenswear collection by entering promotion code SS14WW at checkout.
For more information, product pictures and prices contact:
Chloe Hodson
Social Media and PR Assistant - T.M.Lewin, 6-7 St Cross Street Courtyard, London EC1N 8UA
Tel: 020 7877 3550
Editor's Notes
The very first T.M.Lewin store opened on Jermyn Street in 1898. The company still employs many of the same traditional manufacturing techniques pioneered by its founder, Thomas Mayes Lewin, and excellent craftsmanship, choice and value remain the driving force behind the brand.
Today there are just under T.M.Lewin stores in the UK with further stores opening in countries across the rest of the world - including Europe, Singapore, Australia, South Africa and India.