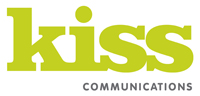 We're delighted to welcome Yvette and Prithviraj to the KISS team. Yvette's great experience, particularly in digital account management will bring another dimension to the client services team. - Sarah Reakes, Strategy Director
(PRWEB UK) 14 May 2014
Yvette, who has taken on the role of Account Manager, joins from Cambridge-based marketing agency, Mobas. Yvette has more than three years professional marketing experience, which spans across the B2B and B2C sector. Past client experience includes Kettle Foods, LG, Hyundai and Asda. She has an MSc in Business Management from the University of East Anglia.
In her new role at KISS, Yvette will be responsible for the day-to-day management of key accounts to ensure excellent service is delivered in-line with clients' objectives.
Also joining the KISS team is Prithviraj, who has been appointed Web Developer within the digital team. He joins from London-based digital agency, PinkSquid and has eight years' experience in the industry. Prithviraj joins with a Diploma in Advanced Software Technology from CMC ltd, India.
In his new role, Prithviraj's primary responsibility will be the handling of coding for the front and back end development of websites.
Speaking about the two new hires, Sarah Reakes, Strategy Director at KISS Communications said: "We're delighted to welcome Yvette and Prithviraj to the KISS team. Yvette's great experience, particularly in digital account management will bring another dimension to the client services team, whilst the added skills and expertise that Prithviraj brings to our development team ensures we are keeping pace with the rate at which we're winning new business."
To view the recently expanded KISS team visit: http://www.kisscom.co.uk/people/.
About KISS
KISS is the creative agency with specific and in-depth expertise in Consumer, Science and Technology communications. Our ability to cut through complexity and successfully deliver a single-minded proposition has been instrumental in us winning a broad range of blue chip, government and successful SME clients.
Built on the philosophy of keeping things simple our experienced team energise brands that aspire to be number one in their category, gain distribution and increase sales around the world including: Bayer CropScience, Bokomo Foods, PlastiKote, Booking.com, Johnson Matthey, Bosch, Snap-on Industrial, Bidwell's, IMServ, IXICO, One Nucleus, Horizon Discovery, IMRG, PWR+, Biochrom, Northern Health Science Alliance, The Technology Partnership, PraxisUnico, SBRI, Health Enterprise East, BlinkPipe, Geomerics and Pizza Hut Delivery.
Based in Cambridge, London and Oxford, we are strategy-led and successfully integrate Advertising, Branding, Consulting, Design, Digital, Exhibition, Public Relations and Social Media Services.