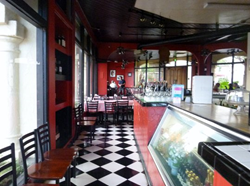 The Metal Ladder Back Chairs stand up to heavy usage without getting wobbly or breaking.
Long Beach, CA (PRWEB) May 13, 2014
Papalucci's is located in the heart of Belmont Shores in Long Beach. It specializes in delicious pizza, savory pasta and filling calzones. The owner, who still cooks there three nights a week, learned to cook from his grandmother. He said he started Papalucci's in 1990 when he couldn't find traditional Italian.
The menu offers a fair sampling of Italian cuisine. Appetizers include roasted peppers, sautéed mushrooms, bruchetta, garlic rolls (astounding), tomato salad, cucumber salad (cucumbers in yogurt), red cabbage salad (spicy red cabbage with onions and garlic) and antipasto.
Pasta dishes include carbonara, puttanesca, lasagna, paisano (onions, garlic, red pepper, and sausage) and tomato and basil. They also serve dishes such as chicken cacciatore, lemon garlic chicken, and spicy eggplant. For seafood, dishes like scampi, spicy shrimp pasta, calamari and mussels, seafood fettuccine are on the menu.
Papalucci's dining room is intimate and decorated with an old world charm. The owner decided to renovate it and update the seating. "He turned to Restaurant Furniture Supply for commercial chairs because of their reputation for excellent quality at affordable prices," explained sales person Chris K. "He opted to go with the Metal Ladder Back Chair with a black frame finish and solid wood seats. "The Metal Ladder Back Chair is one of our most popular chairs across America. As a restaurant with many visitors he knew that the restaurant would need durable chairs. The Metal Ladder Back Chairs stand up to heavy usage without getting wobbly or breaking, like a chair not constructed for commercial use would tend to do," Chris K. said.
Restaurant Furniture Supply's Metal Ladder Back Chair is currently on sale for $35. A matching Ladder Back Metal Bar Stool sells for $56. Customers have the option of a solid wood seat or a high density foam padded seat. The padded seat is made in the USA and comes in vinyl or fabric in many different colors. A custom seat can also be upholstered in any material for an extra cost. The solid wood seat is available in cherry, dark mahogany, walnut, natural and black finishes. A custom finish can also be made. The frame comes in black, gold, copper vein, silver vein or gold vein.
Browse Restaurant Furniture Supply's full selection of commercial grade chairs, bar stools, table tops, table bases, booths and patio furniture at http://www.restaurantfurnituresupply.com/ or talk to a customer service representative at (888) 346-9992.
Pappaluci's is located at 4611 E. 2nd St. in Long Beach, CA. They can be contacted at (562) 434-4454.