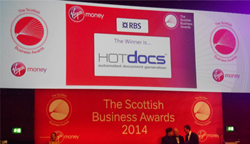 HotDocs is a market leader in 42 countries
Edinburgh, UK (PRWEB UK) 13 May 2014
Against fierce competition from six other global companies based in Scotland, HotDocs collected the Royal Bank of Scotland sponsored International Business of the Year award as a result of major overseas growth and the company's market position within the United States.
The event organisers wrote that: "HotDocs has grown significantly overseas since 2009 and its automated document generation software is a market leader in 42 countries. Shortlisted for its particular strength in the US marketplace, HotDocs' software is used by 80% of America's leading law firms and one fifth of Fortune 500 companies."
The Scottish Business Awards are based on the belief that business and entrepreneurship is the primary driving force behind growth and development. The awards programme particularly looks to celebrate those who are building and leading successful, growing and dynamic businesses in Scotland. The event, which took place at Edinburgh's International Conference Centre on Monday 12th May, was the largest business gala dinner ever held in Scotland, with almost 2,000 guests. Sponsors included Virgin Money, Chivas Brothers, Johnson & Johnson and KPMG and Sir Richard Branson was a special guest on the night. The judging panel for the Awards comprised a who's who of Scottish business and entrepreneurship and included Sir Tom Hunter as Chairperson. All proceeds from the Scottish Business Awards go to charity and the event has raised more than £1 million over the past three years.
Gary Eunson, Commercial Director at HotDocs, collected the company's award on the night. He commented: "We are absolutely thrilled to win the International Business of the Year at the Scottish Business Awards 2014. To be recognised by a judging panel of top Scottish business people as the winning company against six other innovative businesses is a fantastic endorsement of the hard work that the HotDocs team have put in to successfully grow our business into international markets."
About HotDocs
HotDocs is the market leading provider of automated document generation software, with customers in 42 different countries and a user-base, globally, that exceeds one million end users. Automated document generation, or document assembly, allows a vast reduction in time spent in the production of high volume, repeat documentation such as contracts, agreements and other legal paperwork.
Widely used within the legal, banking, insurance, public and corporate sectors, HotDocs software also increases accuracy, reduces cost/risk and improves efficiency in the generation of complex, or simple, repeat documentation. The software is available on premise, on desktop or via the cloud and can operate in a standalone capacity or as part of wider business process management system, such as workflow, document management or case management systems.