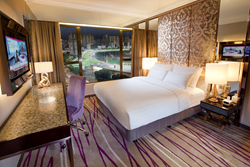 Hong Kong (PRWEB) May 14, 2014
Award-winning 4-star contemporary hotel - Cosmopolitan Hotel Hong Kong, along with its sister hotels Cosmo Hotel Hong Kong and Dorsett Mongkok, Hong Kong introduce what is known as the next generation of invention in the tourism industry, the Smart Handy Phone, in every guestroom. This smart solution aims to bring unprecedented convenience to guests with a series of value-added features including 24-hour free use of 3G Internet and personal hotspot for multi-device connectivity, unlimited local calls and IDD calls to five countries, namely United States, United Kingdom, Australia, Singapore and China.
"Free WiFi hotspots may be getting common in Hong Kong, but it is still very limited in certain places. Often, you are limited to only 45 minutes free internet access before you start paying. Being a hotel operator that prides itself on service perfection, we want to ensure our guests 24-hour internet connectivity whenever wherever they are, so this is where handy phone comes into play. Not only that, hand phone will also replace the hefty bill for international calls," said Ms. Anita Chan, the General Manager of all three hotels.
"This handy phone is a no-brainer and is specially designed for tourists of all ages. It is lightweight and like everyone else's mobile phone, you can bring it in and out of the hotel as you like. We believe it will greatly enhance our guests travel experience, bringing them greater convenience and significant cost savings like no other," added Ms. Chan.
All-inclusive Features Provide Travellers An Elevated City Travel Experience And Let Them Travel Like A Local
Using this smart handy phone does not require any cash or credit deposit. It is readily available in these Hong Kong hotel rooms (http://www.cosmopolitanhotel.com.hk/hong-kong-hotel.html) when guests check in. Guests are free to use it for as long as they stay, and enjoy 24-hour internet connection everywhere in the city. With the unlimited 3G data and hotspot function, guests can share WiFi with a group of friends or post their photos on social media anytime anywhere.
This smart phone is also making travel a hassle-free and fun experience with useful pre-loaded features including interactive maps, a Hong Kong city guide and a host of exciting discounts for dining, nightlife, shops and local attractions across the city to allow guests to travel like a local. Upon check-out, every device will be reset to its original setting leaving no trace of browsing history, dialed numbers or personal information on the phone.
Other Thoughtful Services and Amenities Available To Render An Exceptional Stay at Cosmopolitan Hotel, Cosmo Hotel and Dorsett Mongkok, Hong Kong
While all three Hong Kong hotels (http://www.cosmopolitanhotel.com.hk/) are no strangers when it comes to adopting the latest technology in their respective property, they firmly believe the launch of a smart phone will further strengthen their market position as one of the best quality 4-star hotels in Hong Kong. A host of innovative services have been introduced in the hotels including 24-hour Flexi Stay*, which allows guests to choose their desired check-in time and enjoy a full 24-hour stay. For greater comfort, the hotels also provide 11 choices of pillows for the guests to choose for free. Last but not least, a complimentary shuttle bus takes guests to multiple tourist destinations on a daily basis.
All three hotels have been honoured with a Certificate of Excellence by TripAdvisor for two consecutive years, while Dorsett Mongkok, Hong Kong has also been awarded Top 25 Hotels in China in the 2014 TripAdvisor Traveler's Choice.
*For guests book through hotel website.
About Cosmopolitan Hotel Hong Kong
4-star Cosmopolitan Hotel Hong Kong is situated amid Wan Chai and Causeway Bay on Hong Kong Island giving its guests convenient access to all business, shopping and sightseeing locations. The hotel is a mere 8-min walk from subway station / Time Square and a 10-min drive from Hong Kong Convention and Exhibition Centre. Cosmopolitan offers 8 types of rooms and suites sizing up to 48 sq. m. The signature Deluxe Course View Room offers a breathtaking view of the horse racing grounds and sport field in front of the hotel. Complimentary shuttle bus service is available to 15 destinations via five routes and all rooms are equipped with 200Mbps ultra high speed Wi-Fi Internet. Other facilities include the He Jiang restaurant that serves Huai-yeung cuisine, the 3T Bar, a gym room and various meeting spaces. Cosmopolitan Hotel Hong Kong is a Michelin-recommended most comfortable hotel three years in a row and is the recipient of Certificate of Excellence Year 2012 and 2013 by TripAdvisor. The recommendation accredits its outstanding service and comfortable stay environment for global travellers. Cosmopolitan Hotel Hong Kong is owned and managed by Dorsett Hospitality International and a member of WorldHotels.
About Cosmo Hotel Hong Kong
4-star boutique Cosmo Hotel Hong Kong is situated amid Wan Chai and Causeway Bay just opposite to Hong Kong Stadium and across the Happy Valley race course. Having a total of 142 room keys, this boutique hotel has a 100% in-door smoke-free policy. Rooms are sectioned into different room categories with a size ranging from 15 to 83 sq.m. and all color coded into orange, yellow and green for free selection. Highlighting a voguish touch of design, the hotel also emphasizes on technology offering high speed Internet access and rental service of iPad with 3G connection. Free WiFi is available in all hotel public area. A mere 8-min walk from the hotel is subway Causeway Bay station and Time Square mega shopping mall, the hotel provides complimentary shuttle service to destinations in Causeway Bay, Wan Chai, Admiralty, Central and Quarry Bay as well. Nooch Bar in hotel lobby presents award-wining cocktails and Breeze on 5/F has a corner for free self-serviced coffee.
Cosmo Hotel Hong Kong has 142 guest rooms and is the recipient of Certificate of Excellence Year 2012 and 2013 by TripAdvisor and "Best of VIP Access" by one of the world's top online travel agents. It is also managed and owned by Dorsett Hospitality International.
About Dorsett Mongkok, Hong Kong
Dorsett Mongkok, Hong Kong is located between Mongkok and Tai Kok Tsui districts – Hong Kong's most celebrated jumble for the new/old, east/west and a place heavily soaked in local heritage that goes along with global glam. Opened in mid of 2010 (previously known as Cosmo Hotel Mongkok), this 100% in-door smoke-free, mid-scale cotemporary city hotel in Hong Kong offers 285 rooms including 20 suites. Specially designed Room Comfort, Room Superior, Room Executive, Room Family Quad, Suite Premier are all presented with modish décor and functional design making them most well-appointed for any kind of stay. The hotel's dramatic double-height entrance and huge chandelier begin a chapter filled with the warmest welcome and most attentive care. A mere 4-minute walk to Olympic Station, the hotel is also a 10-minute walk to MongKok MTR station and an easy 30-minute drive from Hong Kong International Airport. Famous local markets and world-class shopping malls are found both close by. The Thai restaurant Thai Pad is a place to savour Thai cuisine in its authenticity.
Dorsett Mongkok, Hong Kong is the recipient of 2014 TripAdvisor Traveler's Choice. For more information on Dorsett Mongkok, Hong Kong, visit: http://www.mongkok.dorsetthotels.com.