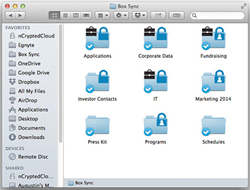 Boston, Mass. (PRWEB) May 14, 2014
nCrypted Cloud today announced availability of its secure collaboration platform natively integrated with the Box cloud content management service. nCrypted Cloud for Box fortifies Box deployments with persistent encryption of files and documents in-flight and at rest on all endpoints, including mobile devices. This assures end users of personal data privacy and provides organizations with an even more secure and manageable collaborative cloud environment.
nCrypted Cloud for Box includes a rich set of confidentiality features to restrict access or quickly enable and disable virtual workgroups, providing enterprises with the extensive logging and audit capabilities required to protect information in business, government and education -- particularly important where regulatory compliance or privacy is mandatory or desired. With today's announcement, nCrypted Cloud becomes the only secure file sharing and collaboration solution to provide persistent encryption and advanced collaboration across all the leading cloud storage and management platforms, including Box, Dropbox, Egnyte, Google Drive and OneDrive.
nCrypted Cloud for Box is available immediately at https://www.ncryptedcloud.com/enterprise/signup/.
nCrypted Cloud customers are Fortune 500 companies, as well as a growing number of colleges and universities, such as Imperial College London, the University of Manchester (UK), Emerson College and Brown University School of Public Health.
Cloud Collaboration for Higher Ed
Many higher education institutions are building scalable cloud services, utilizing storage and collaboration in the cloud as a way to manage new and more affordable IT services, while delivering sharing services that better enable workgroups and their personal devices. nCrypted Cloud offers a secure collaboration layer seamlessly integrated with Box to fortify cloud sharing with endpoint data privacy. End users can have their device and cloud service of choice, separate their work and personal information, and utilize a host of tools for privacy protection and collaborating. Universities can prevent data loss by being assured that security controls accompany data wherever it goes. An enterprise administrative console offers monitoring and control features such as the protection of student information per the Family Educational Rights & Privacy Act (FERPA), as well as other policy-based regulations.
"Box has become a standard at many universities where personal and school information is co-mingled and traveling on devices, such as laptops and mobile phones," said Nick Stamos, nCrypted Cloud Founder and CEO. "nCrypted Cloud protects these endpoints and offers the collaboration features end users desire, while meeting the manageability and data governance needs of the college or university."
nCrypted Cloud for Box lets users keep their personal and corporate or university identities separate and share information with other Box users, or across multi-cloud platforms, so that only explicitly authorized individuals are allowed access. Advanced secure collaboration features are available at mobile users' fingertips, while enterprises gain unprecedented oversight.
Key features include the ability to:

Secure files and view and access data from anywhere, on any endpoint
Revoke encrypted data when collaboration ends, including single click corporate data revocation of separated employees -- even if the data is on multiple personal devices
Share files across different cloud services, managing folders and permissions and easily watermarking files for added security
Use a wide range of device and policy management features with full forensic auditing to protect organizational data, control user access, manage corporate or university and personal devices
Pricing for the Enterprise Edition is $10 per user monthly with a 25-user minimum. For sales or business inquiries, contact Tom Murphy at tom"at" ncryptedcloud.com.
About nCrypted Cloud
nCrypted Cloud is an easy to use, flexible secure collaboration application that seamlessly integrates with cloud storage service such as Box, Dropbox, Egnyte, Google Drive and OneDrive. Founded in 2012, the company's patented approach to secure collaboration provides the most secure platform for end-to-end encryption, respecting the privacy of end users, while meeting the data governance and enterprise control requirements of organizations. For more information, visit us at http://www.ncryptedcloud.com and follow us on twitter @ncryptedcloud.
###