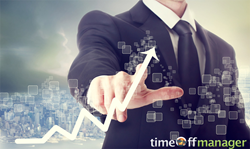 Night and day from our previous system; this has cut down my manager's work load tremedously. "-- D. LEE, AIR PRODUCTS
(PRWEB) May 26, 2014
HR Technology is not a luxury, it is a necessity. Many HR managers and directors at both large and small companies can attest to this truth. While SaaS has been in use since the beginning of the century, it has only recently achieved widespread adoption.
Companies that invest in this type of technology reap returns in many ways. Perhaps the most evident benefit is the boost in HR productivity these systems offer. Software as a service (SaaS) has the potential to increase productivity for businesses ranging from consultancies with a staff of one, to multinational companies. By offloading the administrative functions to service providers, adopting SaaS lets employees focus on their core business. There is a great deal of potential for businesses to spend less time on administrative functions by switching to cloud-based services.
How did Ironflow Technologies Inc. benefit from this growing industry?
TimeOffManager, a product developed by Ironflow Technologies, is a perfect example of a leading edge human resources management application. The development of a web based software to track and manage companies employee leave, time-off and attendance has proved to be a highly dependable HR tool. Ironflow Technologies are very proud to announce that they now offer their first class product to over 800 companies in more than 45 countries. These numbers measure up to a 200 percent growth from May 2013. Although the company is no stranger to growth, they have never taken it for granted. The team at Ironflow Technologies is always dedicated to developing quality products geared mainly at improving the work environment of their clients.
A leave management system (TimeOffManager) is not the only product provided by Ironflow Technologies Inc., they also offer a Disciplinary Management System. This product tracks and manages all infractions, violations and incidents that can occur within a company and can be integrated with your TimeOffManager account. Also, as part of their growth, the company is working on developing many other leading edge SaaS products. Some already near completion will be announced later in 2014. On top of that, Ironflow Technologies have a few more tricks up their sleeves that they are also anxiously waiting to reveal.
Try TimeOffManager to track and manage your employee leave, time-off and attendance for free here. No credit card required. No contracts. Upgrade, downgrade or cancel at any time. To keep up with new features and news from TimeOffManager or Ironflow Technologies, Follow us on Facebook, Twitter and LinkedIn.