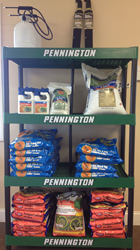 These products were hand-picked by the experts at Super-Sod to treat the cool season grasses most commonly found in western North Carolina
Asheville, NC (PRWEB) May 29, 2014
Super-Sod of Hendersonville has introduced a new line of lawn & garden products this spring that can be purchased at their Mills River outlet location on Jeffress Road. By adding these products, Super-Sod intends to become the area's one stop location for all sod & lawn care needs.
New products available for purchase include: Super-Sod Total Lawn Food plus Iron, broad-leaf weed control spray, fast-acting lime, pelletized dolomitic lime, fungus control, insecticide, and sprayers. These products were hand-picked by the experts at Super-Sod to treat the cool season grasses most commonly found in western North Carolina, such as their Elite Tall Fescue – which they grow & sell locally.
When applying pre-emerge or broad-leaf weed control chemicals, Super-Sod reminds their customers to always make certain the chemicals are labeled for the type of grass installed in their yard.
Super-Sod is a family-run business that employs experts in turf and horticulture. One of their most popular products has been their Soil3 organic compost, delivered in a cubic yard BigYellowBag, which they make partially from composted grass clippings from their sod production. Super-Sod continues to develop new garden products, foster gardening and landscaping, and always seeks to improve their farming practices, technology, environmental stewardship, and employee knowledge.