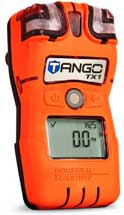 Pittsburgh, PA (PRWEB) May 13, 2014
Industrial Scientific is pleased to announce that the Tango TX1 has won an ISHN 2014 Readers' Choice Award in the single gas portables category as voted on by the magazine's readers.
The Tango, which has a three-year runtime, keeps workers safer than they would be using any other single gas instrument available today. Using two sensors to detect a single gas, DualSense® Technology increases worker safety, regardless of bump test frequency, while reducing overall maintenance costs.
The ISHN Readers' Choice Award program is an annual poll in which thousands of magazine subscribers vote on the most innovative and effective EHS-related products and services available today.
About Industrial Scientific Corporation
As the global leader in gas detection, Industrial Scientific provides gas detection products and services that keep workers safe in hazardous environments. With operations in 20 countries and more than 700 employees worldwide, Industrial Scientific is dedicated to ending death on the job in this century. Established in 1985 and headquartered in Pittsburgh (USA), Industrial Scientific also has operations based in Arras (France), Dortmund (Germany), and Shanghai (China), and provides technical services to customers from local service centers around the world. Industrial Scientific is the parent company to Predictive Solutions Corporation (http://www.predictivesolutions.com). For more information, visit http://www.indsci.com.