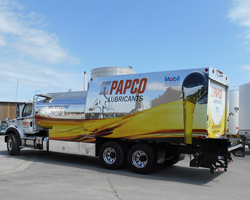 "This new truck is a major leap forward for the efficiency of lubricant deliveries," said Bert Polk.
Virginia Beach, VA (PRWEB) May 19, 2014
Virginia Beach, Virginia based petroleum marketer PAPCO Inc. announced the recent delivery of a new combination lubricants delivery truck that offers the ability to transport lubricants in bulk, totes, and packaged formats all at the same time.
"This new truck is a major leap forward for the efficiency of lubricant deliveries," said Bert Polk, PAPCO Director of Operations. "Unusual as it looks, this combination vehicle is outfitted with 'state of the art' technology, and helps us better control costs by decreasing the number of miles driven, reducing our fleet size and increasing driver productivity."
"I'm very comfortable with it, even though because of its size some deliveries now require us to position the truck in a different spot," said PAPCO Driver, Ferdie Desquitado. "People are definitely noticing it. I'm getting a lot of comments about how great it looks!"
"Seneca Tank's focus was to understand what PAPCO needed for its operation and to then incorporate a uniquely designed system for the application in their marketplace," said Keith Wilges, Seneca Tank Regional Unit Sales Representative. "They had a vision and we assembled the solutions in close collaboration."
The truck houses four liquid compartments with a total capacity of 2500 gallons. The rear cargo box and two front positions mean up to six different bulk products can be handled by the truck. Also on board, three pumping systems and hose reels are capable of drawing product from any of the four tank compartments and two totes.
Another advantage of this truck is its ability to reverse the flow and clear the hose of the previous product. This safety feature keeps drivers from having to climb on top with no fall protection to either "push" the previous product into the top of the bulk or into a waste tank.
Customers will enjoy the convenience and time savings by receiving their bulk and packaged lubes in a single delivery. For PAPCO the overall ability to combine multiple bulk lubricants & packaged goods (on a single truck) lowers delivery costs by reducing trips, man hours & fuel costs.
"While this will be of value to all our delivery areas," said Ben McClenahan PAPCO Commercial Sales Director, "it will be especially helpful as we expand our lubricant business outside of Hampton Roads and into Richmond and other surrounding areas."
About PAPCO
PAPCO is a leading petroleum and energy supplier in the Eastern United States and markets refined fuels, lubricants, risk management products and fuel card fleet management programs to a broad customer base which includes industrial, retail, marine, commercial transportation companies (trucking, transit, railroad, marine) and federal, state, and municipal government end users in the eastern United States. PAPCO backs their value-added services with its secure fuel supply capabilities through proprietary fuel storage locations and supply agreements with an established network of refiners, pipelines, terminals, and transportation providers that have been expanding since 1976.
PAPCO leverages over 30 years of experience in petroleum hedging and product trading to offer innovative price risk management solutions, allowing fuel users to better manage operating budgets and fuel cost. Additionally, PAPCO offers a diverse menu of other product and service solutions including fleet card services, fuel inventory management, on-line account management and storage systems. Through the use of the industry's latest technology, PAPCO provides seamless fuel procurement and inventory management solutions to its clients that bring efficiencies and cost savings to their businesses.
For more information about PAPCO visit http://www.papco.com or call 800-899-0747.
Media Contact: Frank Daniels - frank.daniels(at)papco(dot)com - 757-321-4468
About Seneca Tank
Seneca Tank provides new and used tank trucks, trailers, and pumping systems for lube vans in the refined fuel and lubricant oil industry. We are a family owned business and based in Des Moines, IA. We have successfully provided sales, OEM installations of pumping systems in ALMAC Tanks and van bodies, and experienced service support for over 30 years. Our continued desire to meet and exceed customer's needs has permitted us to discover opportunities to build and install systems with the newest state of the art technology.
For more information about Seneca Tank, please contact Keith Wilges at Seneca Tank at 800.362.2910, ext 124 or visit http://www.senecatank.com.