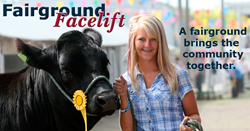 Your votes on Grinnell Mutual's Front Porch Facebook page will decide which projects will receive Fairground Facelift grants.
Grinnell, Iowa (PRWEB) May 13, 2014
Ten fairground improvement projects are finalists for Grinnell Mutual's Fairground Facelift initiative to support local fairgrounds across the Midwest. The public is invited to vote for project finalists to receive grants on the company's Front Porch Facebook page. With help from Facebook fans, Grinnell Mutual will distribute a total of $3,500 to three Midwestern fairgrounds.
"Local fairgrounds are gathering places in many communities. People living and working in rural areas know the needs of their local fairgrounds," said Director of Advertising and Community Relations Barb Baker. "Their votes on Grinnell Mutual's Front Porch Facebook page will decide which projects will receive Fairground Facelift grants."
Fairground Facelift Finalists:

Carroll County Fairgrounds, Coon Rapids, Iowa: Install permanent caging and improve ventilation in the chicken and rabbit barn.
Cherokee County Fair Association, Cherokee, Iowa: Remodel a 4-H building to create an indoor/outdoor learning center in partnership with the local fair board, extension, conservation board, and schools.
Hardin County Fairgrounds, Eldora, Iowa: Renovate youth building for youth and renter safety. Plans include replacing the breaker box, rewiring and adding new light switches, and replacing lights with energy efficient fixtures and bulbs.
Mohall Fairgrounds, Mohall, N.D.: Install playground equipment at the fairgrounds to promote youth activity while staying at the campgrounds or attending events at the fairgrounds or ball diamond.
Norman County Fair, Ada, Minn.: Build permanent pens and pour a concrete walkway for the FFA Chapter's Children's Barnyard.
Putnam County Fairground, Unionville, Mo.: Cover the currently open-sided sheep and cattle barns with louvered metal on their west sides, protecting both livestock and junior exhibitors from sun, rain, and wind.
Red River Valley Fair, West Fargo, N.D.: Build a sunshade near the Agricultural Education Center and the Old McDonalds Hospitality building to provide shade in the picnic area for exhibitors and guests.
Renville County Fair, Bird Island, Minn.: Upgrade the Agriculture Sensory Project, an opportunity for children, teens, and adults to experience grain.
Scottsbluff County Fairgrounds, Mitchell, Neb.: Create an indoor livestock washrack to host livestock shows during the winter.
White County 4-H Fairgrounds, Reynolds, Ind.: Replace the bleachers in the arena to be in compliance with ADA regulations and welcome all 4-Hers and visitors to the shows.
Voting is now open. Anyone can vote on a project. To vote, visit Grinnell Mutual's Front Porch Facebook page, https://www.facebook.com/GrinnellMutualFrontPorch. To vote for a project, simply 'Like' the photo of the fairground project. Grinnell Mutual encourages voters to tell their friends on Facebook to vote for the fairground project they care about most.
Voting ends Tuesday, May 27, 11:59 a.m. Central Time. The three finalists with the most votes will receive $2,000, $1,000, and $500, respectively.
About Grinnell Mutual
Grinnell Mutual Reinsurance Company, in business since 1909, provides reinsurance for farm mutual insurance companies and property and casualty insurance products through more than 1,600 independent agents in 12 Midwestern states. Grinnell Mutual is the 123rd largest property-casualty insurance company in the United States and the largest primary reinsurer of farm mutual companies in North America.