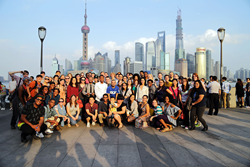 "I support the program's mission of developing people-to-people relationships, so I'm glad to see that TEFL certification and other operational costs will be covered, making it easier for recent grads to benefit from this experience."-Ellie Levinson
Washington, DC (PRWEB) May 14, 2014
Ameson Year in China (AYC) leadership has decided to eliminate fees for the 2014-15 session following a grant from the Ameson Foundation. Initially, a program and training fee had been proposed to mitigate associated costs. With added support and improved services in its second year, the program will remain free.
"We're thrilled with this development," says David Lu, AYC's Director of Operations in China.
"This gift from the Ameson Foundation has removed all barriers for recent graduates who want to enjoy the benefits of AYC. After all, increasing our ranks of talented cultural ambassadors and creating more opportunities for educational exchange are the heart and soul of this program."
Founded in 1994, the Ameson Foundation is a non-profit, non-governmental organization committed to advancing programs that facilitate cultural exchange and educational cooperation. AYC was designed in 2012 for recent college graduates seeking to launch global careers by spending a year teaching, learning, and making a difference in public schools across China. Eleven US Congressmen have sent letters endorsing the program, which also enjoys the strong support of the Chinese Bureau of Foreign Experts' Affairs. AYC provides unique access to top public schools as well as opportunities to learn one of the world's most in-demand languages, acquire professional experience, and grow personally while immersed in China's historically rich culture.
Ellie Levinson, 2013 graduate of Columbia and current AYC participant, said of the grant, "I support the program's mission of developing people-to-people relationships, so I'm glad to see that TEFL certification and other operational costs will be covered, making it easier for recent grads to benefit from this experience."
AYC's official website contains detailed information about the program. Staff are available for inquiries by phone or email.