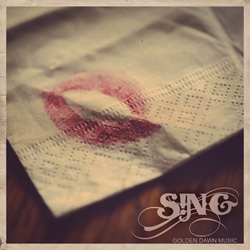 Their self titled debut release is a twelve track album with pure Alternative/Pop/Rock goodness
New York, NY (PRWEB) May 13, 2014
S!NG is an indie Pop/Rock duo formed by "Nothing Still", lead guitarist Anthony James, and British singer/songwriter Ali Moore. The duo's first album, "S!NG", was released today, Tuesday, May 20th, on iTunes, and previously on all major music streaming services like Spotify, XBOX Music, Rhapsody, and many more.
Their self titled debut release is a twelve track album with pure Alternative/Pop/Rock goodness. While the entire album is filled with ear candy, several tracks standout from the rest. The lead single, and first track "Kiss by Kiss", "That Girl Be Crazy", "Earned Your Wings", "Hey Little Dreamer", and "Why Don't You Just Say" are must listens.
The duo had previously released the album through another label, several months prior, but later decided to redistribute the project via MVB Entertainment Music Group, because of Ali Moore's past experience with MVB Entertainment.
At press time several songs are being considered for the album's first music video, and Ali and Anthony are well into their follow up project.