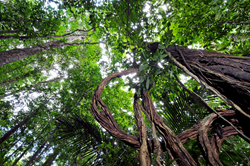 Tokyo, Japan & Arlington, VA, USA (PRWEB) May 13, 2014
Today, Conservation International (CI) and Daikin Industries, Ltd. announced an expansion of their partnership into a multi-year collaboration across six critical forest ecosystems around the world.
The new endeavor between CI and Daikin, a leading Japanese multinational air conditioning company, will focus on forest conservation and environmental education activities to foster sustainable livelihoods on a global scale, aimed at reducing carbon dioxide (CO2) emissions and safeguarding some of Earth's most critical forests for human well-being.
The partnership with CI is part of Daikin's "Forests for the Air" corporate social responsibility project, which launched today in Osaka, Japan. Through this initiative, the producer of energy-saving air conditioners aims to protect "nature's air conditioner"—nearly 11 million hectares of forests worldwide.
Daikin will invest US$4.5 million in this partnership for 10 years to support six critical forests of global importance for human well-being where CI has programs or initiatives underway focusing on mitigating climate change and preserving natural resources.
The Daikin-CI partnership began in 2008, in Indonesia's Gunung Gede-Pangrango National Park to protect the water reservoir and the vital wildlife and plants endemic to the area through reforestation efforts. To date, the "Green Wall" project as it has become known, has planted approximately 120,000 native trees in 300 hectares. This reforestation safeguards the watershed, which contributes to a reliable flow of clean water for more than 30 million people in the region who rely on water coming from the entire Gedepahala watershed.
"We are honored that Daikin has entrusted us with a forest conservation initiative expanding to a global scale that grew out of our project in Indonesia," said Yasushi Hibi, managing director of CI Japan. "We look forward to working together to successfully protect these forests, and as a result, ensure a healthy productive planet for everyone, especially for the people who live with these forests."
By protecting standing forests and restoring forests in places where land conversion has already taken place, substantial benefits are provided to meet immediate human needs, such as those for clean, consistent water flows and a stable climate. The majority of CO2 emissions that contribute to climate change stem from deforestation activities, which release CO2 into the atmosphere when forests are cut down or burned. Such activities account for about 11% of all human-generated greenhouse gas emissions, or as much as all cars and trucks combined.
"Daikin's commitment to increase forest conservation activities on such a vast global scale is inspiring. It is leading the way, and is showing the kind of leadership we hope more Asian companies will adopt," said David Emmett, senior vice president of CI's Asia-Pacific Field Division. "This type of investment really exemplifies what leading corporations are capable of executing when they take an interest and a responsibility in safeguarding our natural resources."
Daikin's conservation initiative with CI also aligns well with the United Nations Convention on Biological Diversity's (UN CBD) Aichi Targets. These are 20 ambitious goals adopted in Nagoya, Japan, in 2010 that in part aim to restore 15% of the world's degraded ecosystems by 2020.
"Our multi-year agreement gives us an opportunity to globalize our successful work in Indonesia achieved with Conservation International," said Noriyuki Inoue, chairman and CEO of Daikin Industries, Ltd. "Daikin believes in supporting initiatives with long-term sustainable results and remains committed to contributing to the environment and nurturing resources for human well-being."
Critical Forests
Daikin's investment with CI will foster sustainability initiatives that safeguard natural resources and enhance the quality of life for local communities through CI initiatives in Brazil, Cambodia, China, India, Indonesia and Liberia. Five of the six are located in biodiversity hotspots, which host especially high numbers of endemic species and are considered the most threatened ecosystems on Earth.
Brazil: In the Amazon wilderness area, Daikin will support CI-Brazil's work in the Amapá Biodiversity Corridor and help plan and implement a comprehensive development program that anticipates and prevents negative impacts generated as a consequence of infrastructure investments.
Cambodia: For more than a decade, CI has worked with the government and communities to protect the Central Cardamoms Protected Forest, part of the Indo-Burma biodiversity hotspot. With Daikin's support, CI will continue its conservation efforts of Southeast Asia's largest intact rainforest, which has one of the lowest deforestation rates of any forested area in the entire region. In addition, this initiative will promote alternative livelihood options for local communities, like selling resin, rattan and ecotourism.
China: Through the promotion of agroforestry practices in key areas in the mountains of Southwest China, Daikin's contribution will support CI-China's actions with local communities in the Mountains of Southwest China, a biodiversity hotspot, to adapt and strengthen their involvement in protecting the critical forest in the region. Program will combine forestry and agricultural technologies to create more diverse, productive, profitable and sustainable land-use systems. The mountains of Southwest China support a wide array of habitats including the most endemic-rich temperate flora in the world, including the golden monkey, giant and red panda.
India: Faced with tremendous population pressure, the forests of the Western Ghats have been dramatically impacted by the demands for timber and agricultural land. Daikin has set a target to protect 600 hectares of forests that are a part of a biodiversity hotspot, through the work of the Applied Environmental Research Foundation (AERF) in the region. Degraded parts surrounding key biodiversity areas will be given priority while creating economic opportunities through capacity building and positive incentives for sustainable forest management. A conservation agreement model will be established that will address local concerns and foster better understanding between ecosystem services and sustainable livelihoods.
Indonesia: Daikin will also continue its activities at the Gunung Gede Pangrango National Park, on Java Island, Indonesia, which is part of the Sundaland biodiversity hotspot. Along with the current reforestation efforts, Daikin's investment will enable the creation of village cooperatives to help the farmers in this biodiversity hotspot obtain better pricing, and the design of appropriate monitoring protocols that are user friendly and easily adopted by the community and park rangers.
Liberia: Daikin's contribution will focus on CI-Liberia's Nimba County project in the biodiversity hotspot of the Guinean Forests of Western Africa. Program objectives will aim to foster environmental education to improve the lives and well-being of the people who rely on this biodiversity hotspot for their livelihoods, while also enhancing conservation of the East Nimba Nature Reserve. One of the greatest conservation challenges in West Africa is finding alternative ways to accommodate human needs, in order to decrease the pressure from rural communities living adjacent to protected areas. Development of economic alternatives such as ecotourism, handicrafts and agroforestry are among CI initiatives in the region.
###
Available Content for Media (***Please Provide Image Credits***)
Photographs for download here: http://bit.ly/1o7GJdD
To learn more, go here:
http://www.conservation.org/forests
http://www.conservation.org/how/partnership/corporate/Pages/daikin.aspx
For more information, contact:
Nick Mitsis, Media Director, Conservation International
+1 703 341 2751/ email nmitsis (at) conservation (dot) org
Shiomi Kasahara, Conservation International Japan
+81 3 5315 4790/ email skasahara (at) conservation (dot) org
About Conservation International (CI)
Building upon a strong foundation of science, partnership and field demonstration, CI empowers societies to responsibly and sustainably care for nature, our global biodiversity for the well-being of people. Founded in 1987, CI is headquartered in the Washington, D.C. area and employs more than 800 staff in 30 countries on six continents, and has nearly 1,000 partners around the world. For more information, please visit our website at: http://www.conservation.org/ or visit us on Facebook, YouTube and Twitter.