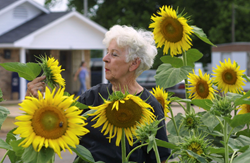 Summer travelers can stop by and enjoy museums, gift shops, restaurants, festivals and events along the North La. byway.
Shreveport-Bossier, LA (PRWEB) May 15, 2014
Summer events along the North Louisiana Boom or Bust Byway include the inaugural Benton Farmers' Market, beginning on Sunday, June 1, in downtown Benton and the Sunflower Trail and Festival, Saturday, June 21, 9 a.m. – 3 p.m., along highway 3049 in Gilliam, just 30 minutes north of Benton.
The Boom or Bust Byway follows Highway 2 and is defined by the Louisiana/Texas border on the west and the loop around the town of Homer to the east. As travelers drive along the byway, evidence of the economic booms and busts experienced by the resilient people of Northwest Louisiana are visible in the historic sites and interpretive kiosks. Summer travelers can stop by and enjoy museums, gift shops, restaurants, festivals and events along the byway.
The Benton Farmers' Market will open for its first season and will be held 12:30-5 p.m., every Sunday through July 27. The Benton Farmers' Market is sponsored by Farm Bureau Insurance. Over 40 vendors have already signed up to sell produce, meats and seafood, dairy and eggs, honey, lunch foods and more during the market's inaugural season.
"We have some great vendors who are coming from all around the Ark-La-Tex," said Benton Farmers' Market committee member Dawn Bushnell. "There'll be local entertainment and lots of things for visitors to enjoy. We're really excited about what this is going to do for the Town of Benton."
The market will be the first event to make use of Benton's new, 3.67-acre park. Parking and restroom facilities are available on-site. A children's playground area, picnic tables and pavilion will also be available. Future plans for the park include an expanded playground area with "splash pads," a walking track, barbecue pits and more.
Also taking place along the byway is the Sunflower Trail and Festival, celebrating its 16th anniversary on Saturday, June 21, 9 a.m. – 3 p.m. This event is dedicated to showcasing the abundance of sunflowers spread throughout more than 25 miles in and around Gilliam, La., as well as a variety of local crops including cotton, corn, soybeans, sweet potatoes, sunflowers and more. A variety of concessions and refreshments will be available for purchase, as well as fresh produce from Ryan Farms Produce.
To explore the Boom or Bust Byway, a GPS Ranger® device is available for pick up at select North Louisiana Visitor Centers. For travelers unable to stop at one of the Visitor Centers, the Boom or Bust Byway free app, featuring the GPS Ranger® is available for download on a smart phone by searching "N LA Byways" in the iTunes Store or Google Play.
To check out a GPS Ranger® or pick up a brochure, visit one of the Louisiana Visitor Centers listed below or visit the Boom or Bust Byway website at http://www.boomorbustbyway.com.
Louisiana Visitor Centers
Louisiana Welcome Center at Greenwood – 9945 I-20 W., Greenwood
Shreveport-Bossier Convention and Tourist Bureau – 629 Spring Street, Shreveport
Lake Claiborne State Park – 225 State Park Road, Homer
Monroe-West Monroe Convention and Visitors Bureau – 601 Constitution Drive, West Monroe
Louisiana Welcome Center at Mound – 836 I-20 W., Tallulah
For more information about the Benton Farmer's Market, contact the Market Manager at bentonlafarmersmarket(at)gmail(dot)com or (318) 584-5977. Information is also available online at http://www.bentonlafarmersmarket.com. For more on the Sunflower Trail and Festival, call Karen Logan at 318-296-4303 or visit http://www.sbfunguide.com.
###
NOTE TO MEDIA: Images of the Sunflower Trail and Festival are available. To request images, contact Chris Jay at cjay(at)sbctb(dot)org.