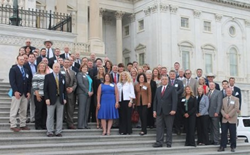 Gainesville, Fla. (PRWEB) May 15, 2014
Area farmers and ranchers will speak up for their livelihoods when they visit with the Florida Congressional delegation in Washington, D.C., May 20-22.
The visit is part of Florida Farm Bureau Federation's Field to the Hill annual trip to the nation's capital. More than 80 Farm Bureau members from across the Sunshine State will participate in the visit. They will discuss pertinent agricultural policy issues including GMO labeling, worker protection, water regulations and immigration reform.
The Field to the Hill trip will consist of Capitol Hill meetings, a Congressional training session at the American Farm Bureau headquarters, a briefing by the U.S. Department of Agriculture, a meeting with officials at the U.S. Environmental Protection Agency and a visit to the British Embassy. Participants will also greet members of Congress and their aides during a reception planned for May 21 at the Florida House.
Florida Farm Bureau, the state's largest general agricultural organization, represents more than 147,000 member-families. We serve to enhance farm enterprise and improve rural communities.