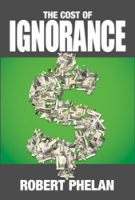 PerformanceBased Insurance™ will change the way many companies insure, saving them millions in the process.
Avon, CT (PRWEB) May 27, 2014
The Cost of Ignorance is a riveting novella by business insurance veteran Robert Phelan. It punctures confusing insurance jargon and introduces a powerful new concept for middle-market companies: a little-known form of insurance called PerformanceBased Insurance™. Performance Based Insurance costs less than conventional insurance and can save a company millions of dollars.
The tale is told through the misadventures of Timothy Franculli, owner of a wholesale distribution company that is about to go broke because of escalating liability and health insurance costs. Timothy attends a conference in San Francisco where he runs into an old friend and learns about Performance Based Insurance, a type of insurance that could save his struggling company hundreds of thousands of dollars per year.
But there is a catch. Typically, to qualify for Performance Based Insurance, a company must have a strong safety culture where worker injuries and accidents are controlled and reasonably predictable. Franculli has a lot of catching up to do after a series of employee injuries the year before caused his worker's compensation premiums to skyrocket 40 percent.
Subsidy-based insurance (SBI) is traditional insurance, insurance coverage where the carrier keeps about 35 percent of the premiums companies pay. Traditional insurance blends various types of businesses together into a risk pool. Companies with superior track records (favorable loss histories) subsidize companies with problematic loss histories. Insurance rates are influenced by external factors, including these variable loss histories, safety programs of the companies in the loss pool, and insurance industry market variability (soft and hard market swings). Performance Based insurance (PBI) provides greater control over these externally driven factors and guarantees participating companies that they know (often personally) the other companies included in their risk pool. Performance Based Insurance focuses on a long-term strategy, as opposed to a short-term, reactive approach.
About the Author
Robert (Bob) Phelan is a 30-year veteran of the insurance industry who has led his firm, The Litchfield Insurance Group, to national prominence. He's the author of two books: "The Cost of Ignorance: What You Don't Know About PerformanceBased Insurance™ Can Save Your Company Millions," and "Broke: The Broken Contractor's Insurance System and How to Fix It". A thought leader in his industry, Bob was recognized as one of "The 25 Most Innovative Agents in America" by The National Alliance Research Academy, and as a "Power Broker" in Construction and Workers' Compensation by Risk & Insurance Magazine. He speaks across the U.S. and Canada and is an Editorial Advisory Board member for the largest trade journal in the insurance brokerage industry.