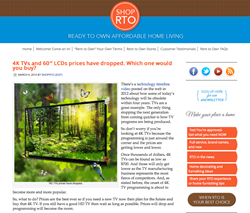 Creating ShopRTO.com as a rent to own consumer website was a no-brainer.
Austin, TX (PRWEB) May 14, 2014
The rent to own industry trade association, APRO, will open its annual conference highlighting ShopRTO.com on May 20th at the Indianapolis Convention Center. The annual conference will begin with its "Education Day" featuring education sessions for rent to own employees throughout the day.
"Shop RTO" is the rent to own industry's promotional campaign akin to other industry campaigns such as "Get Crackin" pistachios and "Got Milk". ShopRTO creators will use the conference's education day to help promote the industry's campaign to rent to own employees and owners.
The website is designed to promote the rent to own transaction to a broader audience. Statistics show that more than half of Americans do not know rent to own as a transaction or retail option to acquire home furnishings.
Rent to own customer focus groups show that consumers are more open to renting to own furniture, electronics, appliances and computers when fully explained. Focus groups also revealed that nearly 100% of them use the internet to influence their decisions when buying home furnishings.
"When 149 out of 150 of our potential customers use the Internet as their first shopping choice, creating ShopRTO.com as a rent to own consumer website was a no-brainer," exclaims David P. David, APRO President and American Rentals Owner.
ShopRTO was created in February 2013 and the "Shop RTO" campaign is an Internet focused campaign tapping into the current trends of the internet dominating shopping choices and decisions. The industry sponsored campaign will take advantage of their high profile at the upcoming rent to own conference to engage rent to own employees to actively promote the website.
About ShopRTO:
ShopRTO.com provides consumers home living and decorating tips and rent to own as a shopping option for affordable home furniture and more.