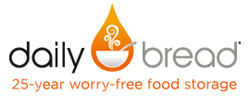 Kaysville, Utah (PRWEB) May 14, 2014
Daily Bread, a provider of high quality food storage products, is happy to announce their clearance event where customers can save up to 70% off all clearance items. Products include gourmet food, emergency supplies, backpacks, and cooking and heating items. The clearance sale offers over 90 items to choose from. Qualities are limited and only available while supplies last. The discount is valid now through May 26th, 2014.
Daily Bread prides itself on its gourmet food's great taste, easy preparation, convenience, affordability, and its 25-year shelf-life. Clearance products range from camping utensils and equipment, as well as freeze dried and dehydrated food – everything you need survive in the case of a disaster. Sort through clearance items based on savings percentage, price, name, and bestsellers.
All orders are shipped via UPS and should ship within 72 hours of placing the order. Visit DailyBread.com for more information.
About Daily Bread
Daily Bread provides the highest quality food storage products and the best overall value. We have a strong customer satisfaction track record. Tens of thousands of people have chosen Daily Bread because it tastes great, is easy to prepare, is convenient to store, has a 25-year shelf-life and is affordably priced. For decades, government and religious organizations have urged people to prepare themselves by storing extra food and water. In light of recent disasters and unsettled economic times, it is becoming easy to see the importance of doing so.