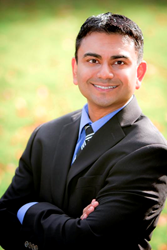 Dr. Sanjay Jain has shared five ways in which the average person can better rid their home of cough- and sneeze-inducing allergens.
Washington, DC (PRWEB) May 14, 2014
Spring is peak allergy season all around the United States. While many people are relishing in the warm weather, blossoming trees and chance to run around barefoot in the grass, allergy sufferers are holed up inside as though they're battling a storm. This storm is not the variety of rain or snow, it's all the allergens that are blowing around in the air both outside and in the home.
Even the most immaculate homes have dust mites hiding out under the carpets, furniture and on the pets. While there's no way to eliminate the allergens that plague millions of people, there are ways in which to minimize the allergens so people who suffer from these microscopic organisms suffer less. Author of Optimal Living 360: Smart Decision Making for a Balanced Life, Dr. Sanjay Jain has shared five ways in which the average person can better rid their home of cough- and sneeze-inducing allergens:

Wash the bedding weekly. Getting the recommended eight hours of sleep a night means that many people spend a third of their life in bed, the hiding place of choice for dust-mites. Pillows, mattresses and box springs should be encased in covers that are dust-mite-proof, and wiped down regularly. Blankets, comforter covers, sheets and pillowcases should be washed weekly in water that is at least 130-degrees Fahrenheit, and comforters and pillows should be placed in a sunny spot for several hours in order to kill any dust mites. For those who can't put up with bedding made of natural materials such as wool and feathers, consider switching to synthetic, hypoallergenic bedding.
Keep pets out of the bedroom. This is certainly easier said than done for most pet owners, but a person who is sensitive to the pet dander is constantly in close contact with the pet, including sharing a bed, the allergies may worsen. At minimum, make the bed a pet-free zone and try to establish boundaries so that the animal stays away form that part of the home as much as possible.
Leave doors and windows closed. Spring breezes, filled with wonderful floral scents, seem lovely, but in fact they're bringing pollen and dust into the home. Consider a no-open-window policy and instruct all family members to close the door quickly upon entering the house.
Maintain optimal temperature and humidity levels. Dust mites and mold like hot, humid homes, so it's best to keep the temperature set between 68- and 72-degrees Fahrenheit. The humidity level should hover around 50-percent. During seasons when heating and cooling systems are in use, be sure to clean and replace the small-particle filters monthly.
Use an air purifier. Investing a bit of cash into a high-quality HEPA air purifier can reap high dividends when it comes to reducing the number of allergens in the home. A good purifier will remove irritants such as bacteria, smoke, mold, pet dander and viruses as it filters through about 80-percent of the air several times an hour.
For more information on reducing allergens and living a healthier lifestyle please visit his website at http://www.sanjayjainmd.com/.
About Dr. Sanjay Jain:
Sanjay Jain, M.D. MBA is a New York Times and USA Today Best Selling author, accomplished medical doctor, health expert, life coach and inspirational keynote speaker who has dedicated his life to helping people find their purpose by achieving a meaningful life that they deeply cherish.
Sanjay Jain is a US trained, board certified physician with over 15 years of clinical experience. He holds certifications in Diagnostic Radiology, Integrative Medicine, and Healthcare Quality and Management. He is a graduate from the accelerated BS/MD program at The Northeast Ohio Medical University. He has diversified experience in the private practice, academic, and integrated multispecialty settings.
He was a former assistant professor at The Ohio State University where he also obtained his MBA at the Fisher School of Business. The combination of which has given him a unique voice and understanding of the many issues we face today in a real and practical sense.
Follow Sanjay on Twitter at @sanjayjainmd. His new book, Optimal Living 360: Smart Decision Making for a Balanced Life (Greenleaf) is available in stores now!