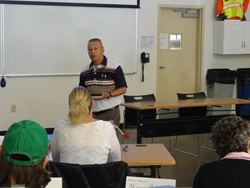 For Sacramento businesses that are working on Continuous Improvement, Practical Project Management training will focus skills that are most relevant for Lean and Six Sigma projects.
Rocklin, CA (PRWEB) May 14, 2014
In June, the Continuous Improvement Network (CIN) will offer Practical Project Management training with Sierra College Center for Applied Competitive Technologies(CACT). The three session training being held in Sacramento will help Northern California manufacturers, businesses, agencies and organizations increase productivity by improving employees' project management skills.
June 4, 18 & 24 -- Practical Project Management
This introductory training in Practical Project Management will be offered June 4, 18 & 24 and will teach participants the basic principles of good project management. Attendees will learn how to identify project resources, create schedules, produce critical path plans and complete evaluation reports. A class project will enable participants to apply project management principles and use the tools introduced in the class.
Non-project management professionals will learn the key elements of the framework for guiding projects through to completion. Participants will also learn methods to develop schedules, identify milestones, anticipate problems and plan ways to address challenges. There will be an emphasis on project management skills that are most relevant for Lean and Six Sigma projects to support companies that are working on Continuous Improvement.
Participants should plan to attend the three all-day sessions. The course will be held at Rex Moore Electrical Contractors at 6001 Outfall Circle in Sacramento. The fee is $360 for CIN Members, $560 for Non-Members and $420 for Government. Register for this event at http://cacinetwork.com/.
About the Continuous Improvement Network
The Continuous Improvement Network (CIN) is an association of business leaders committed to learning and sharing continuous improvement methods. Founded in 2011 by Northern California employers, the CIN provides a gateway to new ideas, motivation and training. The organization offers tours, training and executive forums for companies implementing process improvement strategies.
About Sierra College CACT
Sierra College Center for Applied Competitive Technologies (CACT) is focused on Advanced Manufacturing and is funded through the Workforce and Economic Development program of the California Community College Chancellor's Office. Since 1992, the Sierra College CACT has provided customized employee training for organizations, manufacturers and technology businesses throughout Northern California. Additional information is available at http://www.sierracollegetraining.com/ or by contacting Carol Pepper-Kittredge, CACT Director, Sierra College at 916-660-7801.
Sierra College serves 3200 square miles of Northern CA with campuses in Roseville, Rocklin, Grass Valley, and Truckee. With approximately 125 degree and certificate programs, Sierra College is ranked first in Northern California (Sacramento north) for transfers to four year Universities, offers career/technical training, and classes for upgrading job skills. Sierra graduates can be found in businesses and industries throughout the region. More information at http://www.sierracollege.edu.