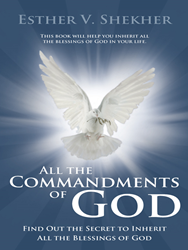 Jesus says, 'If you love me, keep my commandments.'
San Francisco (PRWEB) May 14, 2014
According to Christian missionary Dr. Esther V. Shekher, based on the Bible, family security, prosperity and deliverance from bondages comes from walking right with God
In her new book "All the Commandments of God," Shekher outlines the commandments that must be followed to receive the blessings of Christ.
"Jesus says, 'If you love me, keep my commandments,'" Shekher said. "Jesus loves us so much that he bore the suffering to deliver us from sin. We must long for his righteousness and hate sin."
Shekher accepted Christ at 18 and Jesus has since become her passion. A medical doctor, Shekher left years of studies behind to commit her life to servitude for Christ.
Her book "All the Commandments of God," the first in a series of books outlining the meaning of the Bible, focuses on the gospels of Matthew and John to provide biblical answers to common problems and covers all major topics in Christian faith.
The unique and simplified interpretation of the Bible offers insight into God's intentions for daily life and shows readers how to live out God's will.
For more information, visit http://christrulesnations.org.
"All the Commandments of God"
By: Esther V. Shekher
ISBN: 978-1-4497-8523-9
Softcover retail price: $22.95
E-book retail price: $3.99
Available at Amazon and Barnes & Noble
About the author
Dr. Esther V. Shekher, a medical doctor, left the medical field for full-time missionary work in 2003 and established Christ Rules Ministries. She also leads an international prayer network and has started approximately 7,000 prayer cells to pray for the salvation of others. An established TV evangelist, Shekher regularly speaks at conferences and seminars. She is currently focusing her preaching on end times.