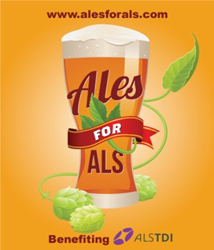 Cambridge, MA (PRWEB) May 14, 2014
The ALS Therapy Development Institute (ALS TDI) announced today the launch of its second annual Ales for ALS™ campaign. Ales for ALS™ is a unique craft brewery-based fundraising initiative created to accelerate drug development for people living with ALS, also known as Lou Gehrig's disease. Last year, 44 brewers in 17 states participated, raising $150,000; this year, 69 brewers from 21 states will participate in the program, continuing to support ALS TDI and its mission to discover and develop effective treatments to end ALS.
As part of the campaign, participant brewers receive a special blend of experimental hops donated by B.T. Loftus Ranches and Hopunion. Each brewer then creates a unique beer from these hops and donates a portion of its sale to ALS TDI. Most of the limited edition beers will be available between May and August 2014.
The 2014 Ales for ALS™ craft brewers include (by location):

Arkansas: Diamond Bear Brewing Company, Flyaway Brewing Company, Rebel Kettle Brewing, Stone's Throw Brewing
California: Acoustic Ales Brewing, Alpine Beer Company, Beachwood Brewing, Brewery at Abigaile, Drake's Brewing Co., Eagle Rock Brewery, Faction Brewing, Golden Road Brewing, Iron Springs Pub & Brewery, Monkey Paw Brewing Company, Noble Ale Works, Pizza Port Carlsbad, Pizza Port Ocean Beach, Pizza Port San Clemente, Pizza Port Solana Beach, Russian River Brewing Co., Sierra Nevada Brewing Co., Stone Brewing Co., Third Street Ale Works, Thorn Street Brewery, Triple Rock Brewery & Alehouse, Triple Voodoo Brewery
Colorado: New Belgium Brewing Company, Odell Brewing
Connecticut: Willimantic Brewing Company
Georgia: Five Seasons Brewing
Louisiana: NOLA Brewing
Maryland: Union Craft Brewing
Massachusetts: Cambridge Brewing Co., Cisco Brewers, Harpoon Brewery, John Harvard's Brewery and Alehouse, Samuel Adams Boston Brewery, Wormtown Brewery
Michigan: Bell's Brewery, Founders Brewing Co., Latitude 42 Brewing Co.
Minnesota: Excelsior Brewing Co.
Missouri: Mother's Brewing Company, The Saint Louis Brewery LLC
Montana: Flathead Lake Brewing
Nevada: Great Basin Brewing Co.
New Mexico: Marble Brewery
New York: Andean Brewing Company, Brown's Brewing Co., CH Evans Brewing Co.
North Carolina: Front Street Brewery
Ohio: Columbus Brewing Co., Fat Head's Brewing Co., Fat Heads Brewery & Saloon, Great Lakes Brewing Co.
Oregon: Barley Browns Brewpub, Breakside Brewery, Deschutes Brewery Inc., Elk Horn Brewery, Full Sail Brewing
Pennsylvania: Troegs Brewing Co, Weyerbacher Brewing Company
Utah: Uinta Brewing Co.
Washington: Bale Breaker Brewing Company, Fremont Brewing Company, Mt. Tabor Brewing, Pike Brewing Company, Triplehorn Brewing Co., Two Beers Brewing Co.
"My family and I are invested wholeheartedly in helping to stop ALS, having lost several family members to this disease," says Michael M. Smith, president of B.T. Loftus Ranches, Inc. and an ALS TDI board member. "We'll continue to lead Ales for ALS as a program to benefit the important work of ALS TDI until a cure is found."
In addition to craft brewer participation in Ales for ALS™, the campaign will incorporate festivals, parties, and homebrew competitions this year. Locations and dates are listed online at the Ales for ALS™ website.
"Those living with ALS today and their families are in desperate need of treatments or cure for ALS, and we are grateful to all those involved in Ales for ALS. The craft brewing industry continues to be a leader in helping to advance the discovery and development of potential treatments for ALS patients today forward," says Steve Perrin, Ph.D., CEO and CSO of ALS TDI.
For more information about Ales for ALS™, please visit http://www.alesforals.com.
About ALS
Amyotrophic lateral sclerosis (ALS, Lou Gehrig's disease) is a progressive neurodegenerative disease that leads to paralysis, due to the death of motor neurons in the spinal cord and brain. There is no known cure for the disease. About 5,000 people in the US are diagnosed with ALS each year; the incidence is similar to multiple sclerosis. However, with no effective treatment, the average patient survives only two to five years following diagnosis. There are about 30,000 people in the US diagnosed with ALS today. The worldwide population of ALS patients is estimated at 450,000.
About ALS Therapy Development Institute (ALS TDI)
The mission of the ALS Therapy Development Institute (ALS TDI) is to discover and develop effective treatments for ALS patients today as soon as possible. ALS TDI is the world's largest independent ALS/MND drug development-focused nonprofit organization. In addition to more than 30 internal therapeutic aimed programs, the world's first nonprofit biotech partners with dozens of pharmaceutical and biotechnology companies worldwide in order to advance potential treatments into the clinic. Its lead ALS therapeutic candidate, Novartis' (Switzerland) Gilenya (TDI-132), is in Phase 2A clinical trial for ALS. For more information on its drug development programs, visit http://www.als.net.
Media Contact: Mari Sullivan, ALS TDI, msullivan(at)als(dot)net, 617-441-7220