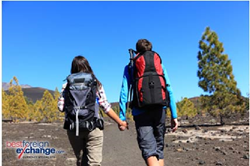 Once you're abroad, you could easily waste around £50 if you use a credit, debit, or pre-paid card that come with expensive fees
London, UK (PRWEB UK) 19 May 2014
There have been a lot of stories recently in the press highlighting the high bank charges being levied on travellers using their bank cards overseas.
When complicated charges on bank cards were added to the travel costs of a young backpacking couple, they were charged over £250 for using their debit card overseas according to a 2nd April report by The Telegraph.
Similarly Mail Online reported that, "Once you're abroad, you could easily waste around £50 if you use a credit, debit, or pre-paid card that come with expensive fees." Based on market research the report further states that, "Holidaymakers could save up to £100.40 when purchasing €1,000 or £71.52 if buying $1,000 at the Best Foreign Exchange website, compared to getting their money last minute at the airport."
"We are very proud that the Mail Online has endorsed the fantastic rates that we provide our customers. We strive to provide travellers with the best service so they can avoid paying high bank charges," said Trevor Samuel, Marketing Manager of BestForeignExchange.com.
Trevor continued, "All service providers levy various charges when using plastics to pay while abroad such as loading fees, ATM withdrawal fees, inactive fees, annual fees and many others which can really eat into the holiday budget."
Instead BestForeignExchange.com maintains a very transparent policy in pricing and does not charge any commission on Travel Money. Their exchange rates are the most competitive in the UK and well published. Their customers are always aware how much they are spending on travel money.
"It is our policy to provide the best deals and most accurate information to travellers and so we have decided not to add travel money cards to our product range, Most card issuers charge a cash withdrawal fee for using your card in overseas ATMs. The fees can vary from 1% to 3% based on your bank. This can increase the overall cost of holidays," Trevor concluded.
About Best Foreign Exchange.com
Owned and operated by Thomas Exchange Global, BestForeignExchange.com offers the most competitive exchange rates in London and customers that reserve currencies online will be assured the same exchange rate until close of business on the particular day despite any adverse fluctuations. They stock the widest range of foreign currencies in London with over 120 types of foreign bank notes. All foreign currency buy/sell transactions are free of any commission or charges.
Thomas Exchange Global also offers International Money Transfer Service where funds can be remitted to overseas bank accounts within 1 to 2 days. With commission free service for transfers over £10,000 backed by competitive exchange rates, customers are assured of a better deal and a substantial saving compared to banks and money brokers. Thomas Exchange Global branches are located at Strand, Victoria Street, Liverpool Street, Hammersmith, Cannon Street and Wormwood Street.
For further details visit http://www.thomasexchangeglobal.co.uk or call 020 7240 1214.