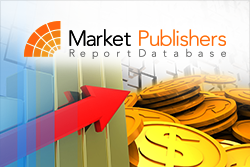 London, UK (PRWEB) May 13, 2014
In 2013, the overall biolubricants consumption stood at around 1.3 million pounds; in value terms, it was estimated at nearly USD 2 billion. Furthermore, in 2014, the global biolubricants consumption reached 1.4 million pounds, which is equivalent to the value of approximately USD 2.1 billion. It is anticipated to grow at a 5.5% CAGR through 2020 and reach 1.9 million pounds and will likely be evaluated at about USD 3 billion. Novel chemical registration policies introduced in the EU, China and the US are expected to contribute considerably to a surge in the adoption of biolubricants across the globe.
Clarion Lubricants, Terresolve Technologies, Neatsfoot Oil Refineries Corporation, Bioblend Renewable Resources, Exxon Mobil Corporation, The Hill and Griffith Company, Houghton International, TOTAL S.A. and Aarhuskarlshamn AB are among the dominant enterprises operating in the world biolubricants industry.
New research report "Biolubricants - A Global Market Overview" worked out by Industry Experts is available at MarketPublishers.com.
Report Details:
Title: Biolubricants - A Global Market Overview
Published: April, 2014
Pages: 451
Price: US$ 3,960.00
http://marketpublishers.com/report/chemicals_petrochemicals/oils-lubricants/biolubricants-a-global-market-overview.html
The report is an essential source of valuable data (historical, current and forecast) on the worldwide biolubricants market performance. The topical study offers an in-depth analysis of the key geographical markets, peers into the competitive landscape within the world biolubricants market as well as provides detailed informative profiles of the dominant worldwide market players. It also contains a listing with contact information of the enterprises involved in the production and supply of biolubricants across the world. A comprehensive summary of the existing products, an insightful review of the key regulations and laws related to the biolubricants industry, a thorough examination of the main market growth resistors and drivers and also a close look at the arising challenges and opportunities are provided in the in-demand report. In addition, an all-round overview of the key business trends and their influence on the biolubricants industry development along with detailed projections of the world biolubricants market performance through 2020 can be found in the study.
Country markets investigated in the research study: the US, Scandinavia, Italy, Switzerland, Austria, Benelux, Japan, China, Germany, Canada, South Korea and India.
Report Scope:

Granular authoritative analysis of the worldwide biolubricants market supplemented by historical and present market data.
Profound examination of the major regional and country markets for biolubricants with a complete pack of vital data on the historical and actual performance.
Snapshot of the most prominent business trends.
Thorough examination of the key market growth propellers, opportunities, challenges and resistors.
Insights into the competitive scenario together with comprehensive profiles of the top market players.
Holistic view at the possible global biolubricants market developments through 2020.
More new research reports by the publisher can be found at Industry Experts page.