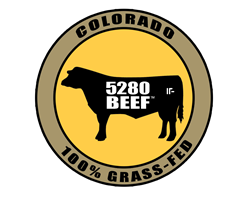 We currently sell to fine restaurants and local Farmers Markets and now, with Overstock.com's help, we are bringing our products to the masses and significantly expanding our current market share. - Ty Gates, CEO and owner of 5280 Land and Cattle
Meeker, CO (PRWEB) May 14, 2014
5280 Land and Cattle announces that it will join online shopping site, Overstock.com's (NASDQ: OSTK) virtual Farmers Market. 5280 Land and Cattle, located in Meeker, CO, raises naturally organic grass-fed and grass-finished beef as well as free-range pork. Overstock.com is one of Forbes Top 100 Trusted Companies and a leader in the online retail space.
"I was excited when I heard that Overstock.com is bringing fresh organic foods direct to customers. This is something I am passionate about, and it is great to see others joining us in providing quality food from farm to table. We currently sell to fine restaurants and local farmers markets and now, with Overstock.com's help, we are bringing our products to the masses and significantly expanding our current market share," said Ty Gates, CEO and owner of 5280 Land and Cattle.
"Overstock's Farmers Market, found in the OVillage location of the website, offers a trusted assortment of hand-selected, organic, locally-grown products," states Overstock.com CEO Patrick M. Byrne. "Like the fine beef and pork provided by 5280 Land and Cattle, it's important that our product offerings be the best quality at a great value."
"Overstock.com brings a world class e-commerce solution to help empower small businesses like ours. It is refreshing to see a large scale retail operation lend a helping hand to small growing businesses. We are excited about working with a market leader and family-friendly company like Overstock.com," said treasurer Rachel Gates.
About 5280 Land and Cattle
5280 Land and Cattle Co. LLC raises and sells meat packaged under the 5280 Beef® and 5280 Pork™ brands. All products are free of hormones, steroids and antibiotics. 5280's objective is to provide quality, clean meat products at an affordable price to families who value knowing where their food comes from. All animals are humanely treated and respected; therefore, eliminating feedlots and cages. You can find 5280 Beef® and 5280 Pork™ at Colorado's finer restaurants and farmers markets.
About Overstock.com
Overstock.com (NASDAQ: OSTK) is a discount online shopping retailer based in Salt Lake City, Utah that sells a broad range of products including furniture, rugs, bedding, electronics, clothing, jewelry and cars. Worldstock.com, a fair trade department dedicated to selling artisan-crafted products from around the world offers additional unique items. Main Street Revolution supports small businesses across the United States by providing them a national customer base. The Nielsen State of the Media: Consumer Usage Report placed Overstock.com among the top five most visited mass merchandiser websites in 2011. The NRF Foundation/American Express 2011 Customer Choice Awards ranked Overstock.com #4 in customer service among all U.S. retailers. Overstock.com sells internationally under the name O.co. Overstock Shopping (http://www.overstock.com and http://www.o.co) regularly posts information about the company and other related matters under Investor Relations on its website.
Contact
Website: http://www.5280Beef.com
Facebook: https://www.facebook.com/5280Beef
Twitter: https://twitter.com/5280Beef
Email: info(at)5280beef(dot)com