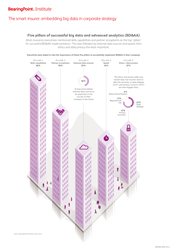 London, UK (PRWEB UK) 20 May 2014
Insurance companies risk being bypassed by new, more agile data aggregators taking advantage of the digital era, as the data revolution looks set to transform the industry.
Insurance is an obvious choice for tech companies looking to take advantage of the reams of data they have at their disposal; Google Executive Chairman, Eric Schmidt, said the insurance industry was 'about to explode' with uses of big data. Meanwhile, habitually risk-averse insurance companies threaten inertia by continuing with traditional actuarial business models.
A new BearingPoint Institute survey revealed big data is expected to have a significant impact on the industry, but insurance companies are yet to prepare themselves for the change:

Over two-thirds of our survey respondents said big data had a highly important role in the company's future and 71% rated it as a maximum priority by 2018
But just 24% said they felt their company's maturity on the issue was advanced or leading and only 33% have started a departmental or company-wide implementation process
Why the hold up? The vicious circle of big data and advanced analytics in insurance
When asked why big data was proving a challenge for insurance executives across Europe, a cyclic pattern emerged that was difficult to break:
Lack of skills – 53% of respondents state that recruiting the appropriate people is an issue
Lack of clear understanding – 16% of respondents said they 'don't know enough' about big data
No common strategy – just 10% of respondents have a company-wide big data strategy
No ownership – 53% of IT executives are left alone to seize the opportunities of big data
Risk aversion – only 37% view their company as ready to implement new ideas in connection to big data
A smarter future: the five pillars of successful big data and smart analytics
However, Patrick Maeder, leader of the BearingPoint's insurance sector and author of the study, says it is not too late for insurance companies to implement successful big data strategies: "We have seen a gap opening up between the leaders and the laggards in big data and advanced analytics in insurance, but the good news is it is not too late for the laggards to catch up.
"From our research and consulting experience, we have identified five core competencies for insurers to address in order to succeed in this area and break free from the vicious cycle restricting progress."
The five pillars of big data:
1) Skills capabilities – executives we asked indicated this was the most important pillar (66%), but just 33% are recruiting and/or hiring data scientists
2) Partner ecosystems – this was rated as our respondents' second highest priority (59%) but only a quarter felt they had a 'strong alliance network' in place
3) External data sources – social media was rated the most promising form of external data (59%) as insurers aim to achieve a holistic view of their customers
4) Speed – failing will be a part of the process, but it is those who fail quickly and correct their mistakes that will take a commanding lead; 71% of 'more advanced' companies believe speed to be important, compared to 51% of 'less advanced' companies
5) Ethics/data privacy – our research found insurance companies are aware of risks of big data (with data leakage and privacy rating as the top two governance concerns), but just 23% of organisations confirmed a governance process in place
The main driver will be the generation of new insights along the length of the business value chain – or, as one of the survey participants, Marc Schreiner, Head of Innovation at Generali, puts it: "The use of big data should focus on business value."
To read more about how insurance companies can build capabilities to address the big data challenge, please download the BearingPoint Institute paper "The smart insurer: embedding big data in corporate strategy" which can be found at http://inst.be/004BDI.
About the research
This article provides insights and shows trends in the domain of big data and advanced analytics in the insurance industry. It discusses the current state of practices in this area and considers the evidence for emerging best practice, building a picture of the facets insurers can adopt to remain competitive in a data-rich, smart future.
The findings of the article are based on a survey with respondents covering 30 insurance companies in Europe and the US, undertaken between January and February 2014. The survey was conducted in close collaboration with TekPlus, a consultancy focused on providing solutions for business transformation and strategic direction with deep experience of the insurance industry and big data topics.
About the BearingPoint Institute
Founded in 2009, the BearingPoint Institute is an incisive, authoritative voice on business-critical topics, which brings together the finest minds from both within and outside the BearingPoint organisation. We strive to:
Advise business leaders to understand the evolution of the global economy at a deeper level
Explore new thinking, going beyond straightforward "Thought Leadership"
Propose new points of view about strategy and organisational change, and stimulate debate
This is achieved by offering practical, real-world advice from:
A leadership team composed of senior BearingPoint Partners, representing geographical diversity and a wealth of capabilities
An independent Advisory Board formed by recognised business leaders and academics
Studies made by experts illustrated with real-life highlights
More information:
Web: http://www.bearingpointinstitute.com
Twitter: @institute_be
LinkedIn: LinkedIn
Download the app for: iPad on iTunes | Amazon for Android | Google Play.
About BearingPoint
BearingPoint consultants understand that the world of business changes constantly and that the resulting complexities demand intelligent and adaptive solutions. Our clients, whether in commercial or financial industries or in government, experience real results when they work with us. We combine industry, operational and technology skills with relevant proprietary and other assets in order to tailor solutions for each client's individual challenges. This adaptive approach is at the heart of our culture and has led to long-standing relationships with many of the world's leading companies and organizations. Our global consulting network of 9200 people serves clients in more than 70 countries and engages with them for measurable results and long-lasting success.
For more information, please visit: http://www.bearingpoint.com.