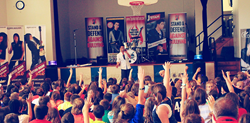 Stand and defend against bullying!
New York, NY (PRWEB) May 16, 2014
Zach's national anti-bullying tour kicks off Monday with Teen Nation Tour. First stops were at local schools in Pittsburgh and will continue in Philadelphia PA, Atlantic City NJ, Providence RI & Boston MA through June.
Zach continues to educate and entertain youth about bullying in a way they can relate – through music.
Check out Zach's newest single "Up To You" which was just released on YouTube. http://youtu.be/YVt1m5VptEI
"Up To You" has a nostalgic 70's and 80's disco feel reminiscent of recent hit songs by Grammy Award Winners Pharrell Williams and Nile Rodgers.
To keep up with Zach and more of his events be sure to follow him on Twitter and Instagram at @ZachMatari, check out his Facebook page "Zach Matari," and be sure to keep up with his website http://www.zachmatari.com for special announcements and free music downloads exclusively for his fans.