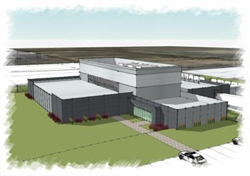 Our data center will be built to withstand natural disasters, which means area businesses can rest-assured their IT infrastructure is safe, protected, and always accessible in our new Tier 3+ data center.
ENGELWOOD, Colo. (PRWEB) May 20, 2014
OneNeck® IT Solutions today announces preparations are nearly complete and construction will soon be underway on its new $20 million, 35,000 square foot Tier 3+ data center in the Denver metro area. The data center will be being built on 11.2 acres of land on Concord Center Drive in Englewood. Once open, in early 2015, it will be the seventh data center owned and operated by OneNeck in the U.S.
"We are excited to make this additional investment in the Denver area," says Phil LaForge, president and CEO of OneNeck. "Our data center will be built to withstand natural disasters, which means area businesses can rest-assured their IT infrastructure is safe, protected, and always accessible in our new Tier 3+ data center."
The multi-phase project is designed for rapid expansion, in up to five phases, totaling 160,000 square feet. It will also be able to support data center modules. The project leverages a personal property tax rebate and construction fee waivers provided by the Board of Douglas County Commissioners to build in the southeast corner of the Denver metro area.
"In an effort to continue strategically supporting investing in projects that provide a strong economic foundation for Douglas County, we are proud to support OneNeck in this endeavor," states Jill Repella, Douglas County Commissioner. "We believe in providing an environment where businesses can succeed. For this reason, it is a pleasure to team up with OneNeck on their data center build, a project that will certainly add to our community's economic growth."
About 30 local companies will be involved in the construction of the building. Denver-area contractor JE Dunn Construction will coordinate the project with support from INVISION Architecture, Faith Technologies, and North American Mechanical.
When the doors open in 2015, the data center will resemble other OneNeck data centers in the Midwest. This facility will be built to support common compliance requirements such as SSAE 16, PCI-DSS, and HIPAA among others. It will also include many state-of-the-industry features, such as:

Three factor security authentication, including iris scanners for personnel identification
Up to 16" thick steel-reinforced concrete walls, roof and floors
Ultra-quick responding VESDA (Very Early Smoke Detection Apparatus) fire detection system
Tier 4 electrical system with multiple levels of redundancy and backup
Energy saving cooling design with a projected PUE of 1.2 or less
Efficient use of space with a 5kW per cabinet average power density (the normal Colorado home uses about 1 kW), with maximums at 4 times that, or 20kW
"We also plan to deploy ReliaCloud in the new data center to provide businesses with a local cloud solution," LaForge says.
ReliaCloud™ is an enterprise-class IT Infrastructure as a Service (IaaS) solution specifically designed for resource intensive applications and databases that necessitate a secure and compliant operational framework. It's built with industry-leading products and capabilities from Cisco, EMC, and VMware.
"We appreciate the county board's support and trust in us," LaForge added. "We look forward to maximizing this opportunity and, ultimately, to making it an economic success for the county, area businesses, and OneNeck."
Today's announcement follows the October 2013 news that Englewood-based MSN Communications was being acquired by Telephone and Data Systems. The acquisition and then unification as part of the OneNeck IT Solutions master brand — combined with today's announcement — adds to the company's strategic direction, which includes building its Tier 3 data center portfolio and delivering tailored end-to-end IT solutions.
OneNeck announced earlier this year the expansion of its data center in Eden Prairie, Minn. These projects are part of OneNeck's strategy to provide local, yet highly secure, Tier 3 or better data center space for business owners who prefer to be close to their IT infrastructure.
Find out more about OneNeck and the planned data center in Denver.
# # #
For more information, contact: Cindy Tomlinson, Associate Manager – Public Relations / OneNeck IT Solutions / 608.664.4471 / cindy.tomlinson(at)tdstelecom(dot)com
OneNeck® IT Solutions LLC, a wholly owned subsidiary of Telephone and Data Systems Inc., employs approximately 650 people throughout the U.S. The company offers a full suite of IT solutions including cloud and hosting solutions; ReliaCloud™ enterprise cloud services; managed services; ERP application management; professional services; and IT hardware. OneNeck owns and operates four Tier 3 data centers in Iowa, Minnesota, and Wisconsin and manages two Tier 2 data centers in Arizona. Visit oneneck.com for more information.
TDS Telecom, headquartered in Madison, Wis., operates OneNeck® IT Solutions LLC and TDS Baja Broadband LLC. Combined, the company employs 3,100 people. Visit tdstelecom.com.
Telephone and Data Systems, Inc. [NYSE: TDS], a Fortune 500® company, provides wireless; cable and wireline broadband, TV and voice; and hosted and managed services to approximately 5.8 million customers nationwide through its subsidiaries TDS Telecom and U.S. Cellular®. Founded in 1969 and headquartered in Chicago, Telephone and Data Systems employs 10,600 people. Visit teldta.com.