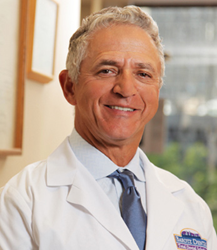 Denver, CO (PRWEB) May 13, 2014
Denver, CO dentist Dr. Charles Barotz will be offering a free seminar on Wednesday, May 14th to educate patients about the benefits of replacing missing teeth with dental implants.
Dr. Barotz will cover a range of topics during the presentation, including ways that implants can be used to stabilize loose dentures or replace dentures altogether. While dentures and bridges are still commonly used to replace missing teeth, dental implants offer many advantages over those tooth replacement solutions. Unlike dentures, which have a tendency to slip and slide around in the mouth, dental implants don't move or loosen over time. Because they actually fuse with the jaw bone, implants provide the strength and stability of natural teeth.
Implants are also advantageous due to their compatibility with the body. Unlike dentures, which are constructed from flexible plastic, iron, and acrylic materials that can cause irritation, implants are fashioned from naturally compatible titanium. This harmonious relationship enables the implants to fuse with the jaw bone through a process called osseointegration.
Dr. Bartoz's seminar will also discuss how dental implants can prevent premature aging and increase patients' confidence. Over time, missing teeth and bone loss can dramatically alter an individual's appearance, causing many people to become self-conscious about their smile. Since teeth act as the natural support system for lips and cheeks, their absence can create a "sunken in" look, aging a person's face considerably. In addition to replacing missing teeth, dental implants are the only tooth replacement solution that prevents further bone loss.
The dental implants seminar is being held at the Republic Plaza Building and will begin at 6:30 on Wednesday, March 14th. Barotz Dental will provide participants with complimentary parking as well as free gifts, prizes, and refreshments. To register for the event, please visit DenverDentist.com or call (303) 595-4994.
About the Doctor
Charles S. Barotz is a general dentist offering personalized dental care for patients in Denver, CO since 1980. He became a doctor of dental surgery at Georgetown University School of Dentistry. He is a well-known author, lecturer and clinician. Dr. Barotz is part of one percent of dental professionals providing the LANAP FDA cleared laser procedure for gum disease and periodontal treatment. To learn more about Dr. Barotz and their dental services visit their website at http://www.barotzdental.com and call (303) 595-4994.