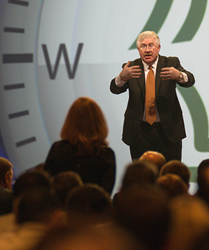 We're very excited to have someone with Jim Blasingame's credentials join our celebration. -- Shana Keith, Public Relations Manager, Cox Business
Tuscon, AZ (PRWEB) May 14, 2014
Award-winning author, broadcaster and small business expert Jim Blasingame joins Cox Business in Tucson, AZ to celebrate National Small Business Week. The occasion will include the release of the 2014 Cox Business Leader Survey results, which reveals the pulse of America's small businesses. In addition, in partnership with Cox Business, Inc magazine will host the Get Started Tucson event, where five entrepreneurs will pitch their ideas to a panel of experts for a chance to win thousands in cash and prizes.
"We're very excited to have someone with Jim Blasingame's credentials join our celebration," said Shana Keith, Public Relations Manager for Cox Business. "In addition to helping Cox Business share the results of our 2014 Business Leader Survey, Jim will deliver the kick off keynote at our "Get Started Tuscon" event (#GetStartedTucson), in partnership with Inc magazine, and then participate on a panel of experts to evaluate the pitches of five local business finalists and help choose the winner."
Internationally recognized as "The Voice of Small Business," Blasingame is the author of the new book "The Age of the Customer: Prepare for the Moment of Relevance" and the award-winning host of the weekday, syndicated radio program, The Small Business Advocate Show®. Cox Business provides voice, data, video and managed services for 300,000 businesses (coxblue.com).
"Congratulations for the commitment Cox Business has made to not only serving small businesses, but helping them celebrate this special week," Blasingame said. "It's important for small businesses to know that larger companies care about their success and are offering support."
Conducting over 1,000 live interviews annually with his Brain Trust®, Blasingame is the nexus of the world's largest community of small business experts. His program has been on the radio since 1997 and simulcast since 1998. He has video channels on YouTube and Vimeo, and is a syndicated columnist for newspapers and business journals, plus online publications, including Forbes.com and Nasdaq.com. His award-winning new book The Age of the Customer® has sold over 35,000 copies.
For his work and leadership on behalf of small businesses and chambers of commerce, Jim received the coveted "Champion of the Chamber" award by the American Chamber of Commerce Executives. He has also received national awards from the U.S. Small Business Administration, the Association of Small Business Development Centers, Small Business and Entrepreneurship Council and New York Enterprise magazine. TALKERS magazine has recognized Blasingame as one of the most important radio talk show hosts in America.
The Small Business Advocate® Show is the flagship brand of the media company, Small Business Network, Inc. (SBN), of which Blasingame is founder and president. SBN produces and distributes multi-media small business resources worldwide. Insperity is the Presenting Sponsor of all of Blasingame's media productions.
The SBN Web sites are: SmallBusinessAdvocate.com and AgeoftheCustomer.com. The Small Business Advocate® and The Age of the Customer® are registered trademarks of Small Business Network, Inc.