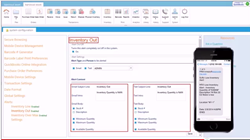 "By allowing our BarCloud customers to create their own alerts, our users have the ability to send their decision-makers critical information in real-time by leveraging their smart devices"
San Jose, CA (PRWEB) May 13, 2014
ASAP Systems, a leader in the online inventory management and asset tracking market, today introduced its new stock inventory feature that includes an alert functionality for when inventory levels are too low, too high, or out. Now users have a powerful communication tool at their disposal to track the rise and fall of stock levels from anywhere, at any time.
With the new feature, users have the ability to set minimum and maximum inventory quantity levels. Once inventory levels reach either of the set quantities, the system sends out an alert via SMS text and/or email. Those alerts are configured by the users and can be sent to selected personnel. This information helps BarCloud customers avoid inventory shortages or overflows, both of which hurt sales and their bottom line.
Previously, BarCloud users could only set up alerts to track asset activities. Now users can set up both stock inventory and asset alerts so that users have more complete systematic control. The end goal of the new feature is to give managers the visibility needed to make important decisions regarding the status of their inventory and assets when they are in or out of the office.
"By allowing our BarCloud customers to create their own alerts, our users have the ability to send their decision-makers critical information in real-time by leveraging their smart devices," says Elie Touma, CEO of ASAP Systems.
Ultimately, ASAP Systems has made the process of maintaining cost-effective stock inventory levels easier for its customers. All types of warehouses and storage infrastructures can utilize the module to build a more complete inventory management and asset tracking system.
About ASAP Systems
ASAP Systems is a market leader in inventory management and asset tracking systems that uses barcode and RFID technology with Motorola barcode scanners, smartphones and tablets. We help improve profitability by eliminating manual data entry, paper files and forms and by automating record keeping. With our inventory and asset software, businesses know 24/7 how and where assets and inventory are