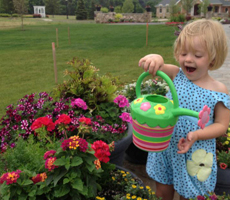 "Vegetative annuals are excellent choices when planting pots and the results are spectacular."
Monticello Indiana (PRWEB) May 15, 2014
Customers at Norway Gardens are seeing many new varieties of vegetative annuals grown in the greenhouses there. Each summer Norway Gardens growers go to Michigan to visit several of the wholesale growers that breed these new garden stars. They choose from their trip their favorite new varieties and grow them in their greenhouses in Monticello.
Vegetative annuals are plants grown from cuttings, not from seeds. Since they are more labor intensive to propagate, they are more expensive than seed-grown annuals. However, when used properly there can be great value in these garden stars. Vegetative annuals are bred to be not only beautiful and unique, they are generally easy to grow and have lots of attributes such as disease and pest resistance, abundance of bloom, and ease of care. Many of them are self-cleaning so there is little or no need to dead head them. Since they are vigorous growers, it doesn't take many plants to fill a pot. They make excellent plants for growing in pots and the results are spectacular. After selecting these plants the next step is planting them properly.
When you fill a pot, consider three kinds of plants: Thrillers (tall plants for pot centers to give height), Fillers (plants with mounding habits that fill the space between the center and the outside of the pot), and Spillers (plants that trail over the side of the pot). Keep this in mind when you select your plants and then follow these steps in planting them:
1. Be sure your pots have drainage. Choose pots that have holes in the bottom or in which holes can be drilled.
2. Use a good potting soil in your pots. We recommend Baccto Professional Potting Soil, which we use in all our greenhouses for our planting. This potting soil never packs and can be used for several years. Note: if you have good potting soil in your pot from last year, pour it out into a wheelbarrow, fluff it up, get rid of old roots, and then put this soil in the bottom half or two-thirds of your pot. Fill the top with new soil. Another option is to rejuvenate your soil with Natural Guard Soil Activator -- a great product for helping your soil make nutrition available to your plants.
3. If you can't water your pots as often as you should, add Soil Moist or Hydrostretch to your soil. These granules fill with water and hold it until the surrounding soil needs the moisture.
4. When possible use large pots for your pot-planting. They give your plants room for their roots to grow. They also hold moisture much better.
5. After you have planted your pots, water them the first time with Fertilome Root Stimulator to get the roots to start growing quickly.
6. Remember that plants in pots require more frequent watering than do plants in the ground. Watering leaches out nutrients quickly so plants in pots need to be fertilized more often -- even if your potting soil contains fertilizer! We have several great fertilizers for pots from which you can choose.
Visit Norway Gardens soon and take a look at all the beautiful new varieties of annuals from which to choose when planting your pots. The knowledgeable staff at Norway Gardens can answer your questions and help you make your selections.