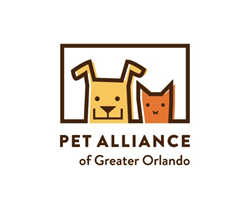 We speak. We heal. We care.
Orlando, FL (PRWEB) May 14, 2014
The almost 80-year old SPCA of Central Florida unveiled its new name and brand, Pet Alliance of Greater Orlando, on Friday at the first-ever Humane Heroes Luncheon at The Alfond Inn in Winter Park, Florida. A new logo and the tagline "We speak. We heal. We care." were also introduced to the community at the luncheon, which raised $139,170 in donations and pledges to kick-off the Humane Heroes Club major donor society. The amount included a $20,000 leadership challenge gift from Reed Nissan.
The new collaborative direction for the Pet Alliance of Greater Orlando follows changes in leadership that occurred late last year with the announcement of Kerri Burns as the agency's executive director and Sean Hawkins as the director of marketing & philanthropy. "We have a new mission at Pet Alliance of Greater Orlando," Kerri Burns said. "That mission is to save more animal lives in Orange, Seminole and Osceola counties, and we cannot do it alone. We need everyone who loves animals as our partners – our allies – in the welfare and well-being of dogs and cats."
"We are challenging the historical role of animal shelters in our communities," Sean Hawkins said. "We are tired of building warehouses for homeless animals. Instead, we want to focus our limited resources on finding ways for animals that have homes to keep those homes," he said. "Maybe access to affordable veterinary care through our veterinary clinics or even free spaying or neutering for dogs and cats through our state-of-the- art mobile clinic can keep pets healthy – and out of the shelter – or can prevent more homeless animals from being born."
"Changing the name of our organization to now include the word 'Alliance' reflects our new commitment to work with everyone who wants to help animals," says Burns. "By enlisting help from city and county governments, private veterinarians, and even rescue organizations, our goal is to keep dogs and cats out of shelters and instead keep them in loving homes with caring families," Burns said.
More than 10,000 homeless dogs and cats turned to animal shelters operated by Pet Alliance in Orlando and Sanford, Florida last year. The caring veterinarians at the organization's two veterinary clinics helped or healed an additional 45,000 pets. The organization provides pet adoptions, affordable veterinary care, animal sheltering, as well as community education programs.
Pet Alliance of Greater Orlando has already expanded programs to include offsite adoptions at PetSmart and Petco stores, adopting more animals into homes and increasing efforts to sterilize pets, preventing future homeless puppies and kittens from ever being born. A new partnership with Osceola County Animal Services and funding from private donors has allowed Pet Alliance of Greater Orlando to deploy its mobile veterinary clinic to assist underserved communities through reduced cost spaying and neutering services for dogs and cats. According to Burns, "Thanks to generous support from private donors, free spaying and neutering is available for dogs and cats in qualifying low-income families through our mobile clinic."
"We want to be known as leaders and innovators in animal welfare," according to Hawkins. "That's why Pet Alliance of Greater Orlando reached out to Ark Sciences to participate in the launch of Zeuterin™ injections for male dogs, a new technology that sterilizes pets without general anesthesia and surgery." ZeuterinTM is the first and only FDA-approved injection for sterilizing male dogs aged three months and older. It is administered on an outpatient basis at both the Pet Alliance Orlando and Pet Alliance Sanford veterinary clinics.
"In addition to new programs that prevent homeless animals and increased adoption efforts, we are providing better care for animals who do end up in our facilities," Burns announced. "We have increased our foster home programs to care for special needs animals outside the shelters, and we have created enrichment programs for dogs and cats, all in an effort to help address the mental and physical health requirements for displaced animals in our care." Burns said.
About Pet Alliance of Greater Orlando
The SPCA of Central Florida was founded in 1937 to promote "the prevention of cruelty to children and animals." Today, the Pet Alliance of Greater Orlando is laser-focused on saving the lives of dogs and cats. As the "go to" experts, Pet Alliance of Greater Orlando provides sheltering, affordable veterinary care, "meals on wheels" for dogs and cats, pet-assisted therapy programs and community education efforts, helping tens of thousands of animals and the people who love them each year across Orange, Seminole and Osceola counties. Funding for Pet Alliance of Greater Orlando programs comes from individual and corporate donors within the communities it serves. No funding is received from national organizations.
For more information on Pet Alliance of Greater Orlando, please select the following link. https://www.dropbox.com/s/eq4p2hqv43holxb/Pet_Alliance_of_Greater_Orlando.mp4.