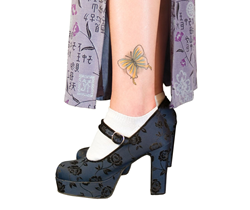 Technology introduced last year has altered the process of tattoo removal – simplifying and improving many aspects of the procedure.
(PRWEB) May 14, 2014
Changing tastes, times or circumstances all can prompt people who once loved their tattoos to now want them erased.
New technologies make tattoo removal easier than ever and have made more people aware that removing them is possible, said Roy Geronemus, M.D., a former president of the American Society for Dermatologic Surgery. His New York City practice specializes in laser and other medical and cosmetic surgery treatments. Geronemus has been involved with the development of multiple new laser systems and treatment techniques, including those for tattoo removal.
He and other ASDS member dermatologists have seen an increase in the number of people who want to erase their body art. ASDS physicians completed 96,000 tattoo removals in 2013, according to the recent ASDS Survey on Dermatologic Procedures. The number of treatments increased 52 percent over 2012.
"There are a larger number of people with tattoos," said Geronemus. "Historically, a certain percentage of people eventually regret their tattoos and want them off. So we're not surprised to see the number of removals go up."
A 2012 Harris Poll found 21 percent of Americans have at least one tattoo, up from 16 percent in 2003. That same poll found that 14 percent of people now regret that decision.
"There's also a general awareness that we're much better at tattoo removal than ever before," Geronemus said. "People recognize removal as a more viable option."
Treatments vary from patient to patient because each tattoo is different. Generally, lasers use a high-intensity light to smash a tattoo's ink particles. Tattoo colors and skin color both affect the process, as does tattoo size.
Technology introduced last year has altered the process of tattoo removal – simplifying and improving many aspects of the procedure, Geronemus said. "It's the first time since 1991 that we've seen this drastic of a change," he said. "It certainly accounts for renewed interest from the public."
Geronemus said the new picosecond laser delivers a pulse of light 100 times faster than previous lasers, shattering ink into minute particles that result in better elimination of the tattoo ink, less skin damage and fewer treatments.
It more effectively clears blue and green inks, previously two of the hardest colors to erase. It also is better at treating skin of color, increasing interest in the process, according to Geronemus.
Reasons vary widely as to why patients seek removal of their tattoos, he said.
One woman who had a leg tattoo wanted to wear dresses without displaying body art, for example. "Perhaps there's been a change in professional status. A man with a tattoo in a visible location wants it removed because it attracts the wrong kind of attention on the job," Geronemus said.
"Sometimes the reason is very personal. A patient may have a tattoo that includes the name of someone who is no longer in his life."
In his practice, young mothers represent the largest demographic seeking tattoo removals. "They want a different image for their children," he said.
Whatever the reason, Geronemus advises prospective patients to seek out an expert ASDS member dermatologist. Others who say they specialize in tattoo removal may not be trained properly or might not have the appropriate level of licensure, he said.
"They're often using the wrong laser for a specific color or using the wrong parameters. And they have no access to local anesthesia, so the patient is very uncomfortable," he said. "I see people suffering because they're in the wrong hands."
Removal done improperly can leave a scar more visible than the tattoo, he said. "We now have so many options – and technology is continually evolving. People don't have to live with regret. In the right hands, removal is safer and more effective than ever."
About ASDS
The American Society for Dermatologic Surgery (ASDS) is the largest specialty organization exclusively representing dermatologic surgeons who have unique training and experience to treat the health, function and beauty of your skin. ASDS members are pioneers in the field. Many are involved in the clinical studies that bring popular treatments to revitalize skin and fill and diminish wrinkles to the forefront. Their work has helped create and enhance many of the devices that remove blemishes, hair and fat, and tighten skin. Dermatologic surgeons also are experts in skin cancer prevention, detection and treatment. As the incidence of skin cancer rises, dermatologic surgeons are committed to taking steps to minimize the life-threatening effects of this disease. For more information, visit http://www.asds.net.
Follow us:
Website: http://www.asds.net
Follow ASDS on Twitter: http://www.twitter.com/ASDSSkinExperts.
Become a fan of ASDS on Facebook: https://www.facebook.com/ASDSSkinExperts.
Locate a dermatologic surgeon in your area: http://www.asds.net/findadermatologist.aspx.
Contact:
Beth Bales
Communications Manager
American Society for Dermatologic Surgery
847-956-9143