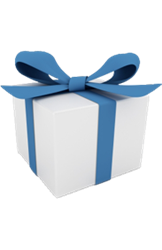 This updated utility allows merchants to quickly access original transaction details for exchanges with our unique gift receipt design and transaction barcode
Englewood, FL (PRWEB) May 15, 2014
GiftLogic recently revamped its gift receipt utility, making it easy for merchants to generate gift receipts and accept returns from gift recipients. According to a spokesperson from GiftLogic, "This updated utility allows merchants to quickly access original transaction details for exchanges with our unique gift receipt design and transaction barcode."
The spokesperson explained how the GiftLogic gift receipt utility works. At the point of sale, the cashier can identify one or more items as a gift. "They simply click a gift box icon to tag individual items as gifts," he said. "If there are multiple gifts, the GiftLogic POS software prompts the cashier to print individual gift receipts for each item or consolidate the items onto a single gift receipt."
Once the transaction completes, the original receipt and gift receipts are immediately printed. GiftLogic also allows cashiers the convenience to print gift receipts at a later time if necessary too Gift receipts do not show pricing information which ensures that recipients are not aware of the item's original purchase price. Should the recipient need to exchange a gift item, the gift receipt's barcode contains all of the transactional details. The cashier simply scans the gift receipt's barcode to bring up the associated transaction. From there, the cashier can process a return, exchange, or credit.
"The integrated barcode speeds up exchange time dramatically," stated the spokesperson. "It's simple for everyone involved."
The spokesperson further explained that the gift receipt utility comes built into GiftLogic Point of Sale software. "All of our customers have access to this easy-to-use tool. It's a standard feature that makes gift receipts as easy as possible and returns or exchanges seamless."
About GiftLogic
GiftLogic Point of Sale Software is a cash register and store management solution for "Main Street" retailers who want robust features comparable to those their big box competitors use. Not only can GiftLogic users quickly generate gift receipts, they can also accept credit cards, track inventory, manage purchasing and receiving, and view detailed reports. Optional features include an integrated fingerprint reader, time clock software, gift registry, consignment, QuickBooks integration, and much more.