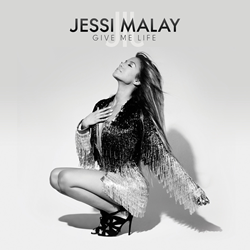 Los Angeles, CA (PRWEB) May 14, 2014
After much anticipation, Jessi Malay's debut EP, Give Me Life, is available today on iTunes. In support of the release, the singer, songwriter, performer, and fashion tastemaker will join pop icons Danity Kane on their high-profile reunion #DKNOFILTERTOUR starting May 16 at The Fillmore in San Francisco, CA.
Give Me Life fuses slick and slippery pop melodies to buoyant, bouncing R&B grooves. The title track ignites the dance floor with an EDM flare, while "Beg" lifts off with a shimmering stomp. The first single "Do Not Disturb" might just be the year's steamiest bedroom anthem with its candid lyrics and coy delivery, and "Fetish" goes all the way to sonic ecstasy. You'll feel alive after just one listen.
About joining the #DKNOFILTERTOUR, JESSI exclaims, "I couldn't be more excited to be going on tour with Danity Kane! I've always loved and admired those girls not only for their talent and beauty, but mostly for their relentless determination, willpower, and drive. These are the qualities that I admire most in women and am honored to share that stage with them!"
You already might be familiar with the artist from her highly trafficked fashion blog My White T. Regular visitors anxiously await for her latest fashion and outfit picks as well as her ongoing series of instructional makeup videos on YouTube. She's also carved out an impressive social media imprint with legions of Instagram followers and expansive followings on Facebook and Twitter.
Critics continue to praise her as well. Vibe called her "someone we should keep on our radar this year", while ARTISTdirect.com wrote, "This fashion-forward femme fatale has all the makings of Pop's next superstar."
Pop comes to life today with JESSI MALAY.
Tour Dates:
May 16 Friday at 9 p.m. -The Fillmore -San Francisco, CA
May 18 Sunday at 8 p.m. -City National Grove of Anaheim -Anaheim, CA
May 21 Wednesday at 6:30 p.m. -House of Blues Chicago -Chicago, IL
May 22 Thursday at 8 p.m. -The Pageant -Saint Louis, MO
May 23 Friday at 7:30 p.m. -Bogart's -Cincinnati, OH
May 24 Saturday at 7 p.m. -The Fillmore Detroit -Detroit, MI
May 25 Sunday at 7 p.m. -House of Blues Cleveland -Cleveland, OH
May 28 Wednesday at 8 p.m. -The Fillmore Charlotte -Charlotte, NC
May 30 Friday at 7 p.m. -House of Blues Boston -Boston, MA
May 31 Saturday at 8 p.m. -The Fillmore Silver Spring -Silver Spring, MD
Jun 1 Sunday at 8 p.m. -Theatre of Living Arts -Philadelphia, PA
Jun 3 Tuesday at 7 p.m. -Irving Plaza -New York, NY
Jun 5 Thursday at 7:30 p.m. -Humphreys Concerts By the Bay -San Diego, CA
http://www.GiveMeLifeEP.com
http://www.jmalay.com
facebook.com/JessiMalay
youtube.com/JessiMalay
http://www.mywhitet.com/
http://instagram.com/jessimalay
https://twitter.com/jessimalay