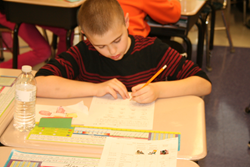 "I'm a better teacher. I am able to formatively assess students and react to that on a daily basis." -- Core Popescu, 8th grade math teacher
Bensenville, IL (PRWEB) May 15, 2014
Teachers practicing the common core curriculum are using new locally developed performance-based assessments to gauge learning and prepare students for the new multi-state assessments Smarter Balance and PARCC.
These new performance-based assessments step away from measuring content and instead measure students' abilities to read and interpret material and apply concepts.
Instead of selecting a multiple choice answer, students must demonstrate their knowledge. This translates to not only selecting which points are plotted correctly on a chart in math, for example, but applying the data to answer further questions that show students understand what the charts mean. This may seem like an obvious step, but it really represents the transformation of teaching for standardized tests to the new performance-based measures of understanding Common Core Standards.
For teachers in District 2, this has been an evolution that is exciting and empowering. As a Race to the Top district in Illinois, Bensenville School District 2 just completed its first year of locally developed assessments in every class and every grade preK-8: from P.E. to mathematics.
Teachers developed the assessments and rubrics. An inter-rater reliability team cross-checked the assessments for validity. The new assessments will serve two purposes in the years to come: to measure student growth and provide one measure of teacher effectiveness.
District 2 is one of the few districts to tap teachers' talents and insights to measure student growth instead of vendor-based assessments like Measures of Academic Progress by Northwest Evaluation Association.
These types of assessments have helped teachers more clearly understand Common Core Standards and the effectiveness of their classroom lessons.
"I'm a better teacher," said Core Popescu, 8th grade math teacher. "I am able to formatively assess students and react to that on a daily basis."
By 2016-17 these assessments will count toward 30 percent of a teacher evaluation. Assessments will continue to be refined next year as the District enters its second year of no-stake growth assessments.
"We are building a performance-based culture," said Superintendent Dr. James Stelter. "It's a matter of getting to what's good for kids vs. simply complying with the law."