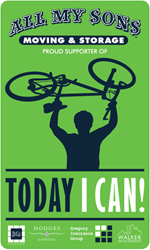 I did something I never thought possible and I want to inspire the next person.
Dallas, TX (PRWEB) May 15, 2014
This summer, from June 20th through July 31st, 50-year-old Ford Baker, a Dallas area accountant, will take his bike and pedal down the coast from Vancouver to Tijuana. His goal for this ride is not only to challenge himself, but to challenge others for the sake of physical fitness.
Mr. Baker's hope is to inspire and spread awareness that one person's quest to overcome obstacles and live a healthier lifestyle can start today. His newly formed organization, Today I can will be the banner he rides under, and the message that he hopes to share. Today I Can overcome my weight struggles. It starts with you, and it starts today.
Being a self-proclaimed college football fanatic, Mr. Baker will be making stops along the way at Pac-12 schools. His tentative schedule is as follows:
PAC 12 Tour Tentative Dates:
Jun 24: Ride from Denver to Folsom Field / University of Colorado in Boulder, Colorado for the University of Colorado.
Jun 25: Ride from Lavell Edwards Stadium at BYU to Rice Eccles Stadium at the University of Utah
Jun 26: Ride at Boise State University just to see a blue football field.
Jun 27: Ride in Pullman Washington and Martin Stadium for Washington State University
Jun 30: Leave Vancouver for ride to Tijuana
Jul 1: Arrive in Seattle Washington that afternoon, ride Husky Stadium for University of Washington
Jul 5: Ride from Roser Stadium at Oregon State University to Autzen Stadium in Eugene for University of Oregon
Jul 17: Ride from Napa Valley to Berkeley, California for ride around University of California ride at California Memorial Stadium and on to Haight Ashbury
Jul 18: Ride from Haight Ashbury to Golden Gate Bridge and on to Palo Alto and Stanford Stadium
Jul 25: Ride from Santa Monica Beach to the Coliseum, home of USC football and then on to Pasadena and the Rose Bowl, home of UCLA football
Jul 31: Tour de Pac 12 finishes with ride from University of Arizona to Arizona State University, 111 miles in the desert heat.
He will be riding over 2000 miles from the end of June through July, riding anywhere between 70 to 100 miles a day.
In the summer of 2012, at the age of 48, Mr. Baker weighed 340 pounds and was told by his doctor that he would never stop taking prescription medications. His weight put so much pressure on his back that he had to use a cane at times to help ease the pain. Then he decided to make a change. He changed his diet, hopped on a bike, and started moving. Though he started slow, and had to work hard, today Mr. Baker stands 120 pounds lighter, and prescription free. In that same summer that he first started his quest for physical fitness, Mr. Baker decided that he would one day be fit and well enough to ride his bike all the way down the west coast, and this summer that will become a reality.
However, he will not be making this journey alone. His wife who will be there as a supporter and an occasional riding buddy on certain legs of the Tour de Pac 12 will join him. He also will have the support of many corporate sponsors including All My Sons Moving & Storage. "We saw Ford's transformation and wanted to help him inspire others to get moving," shared Ormando Gomez, an All My Sons Moving and Storage Representative, "and our team members will be there along the way to cheer him on."
While Mr. Baker is very passionate about riding, and football, and will enjoy the opportunity to ride around the country doing and seeing what he loves; in the end this ride is about the message. Two years ago Ford Baker was told he had no hope, and two years ago he made the decision to say that Today I Can have hope. He now hopes his story can inspire others to do the same.
About Ford Baker: Ford Baker is a 50-year-old CPA with a growing practice in the Deep Ellum Arts District outside downtown Dallas. He has been married to his college sweetheart Linda since 1986, the year he graduated from Texas A&M. He has two children. Katie Babb is married and an art teacher in Richardson and his son Will is a senior advertising major at the University of Oklahoma.
About All My Sons Moving & Storage:
Over 20 years ago the first All My Sons Moving & Storage opened its doors. Since that time, the brand has become synonymous with quality modern moving and old-fashioned care. All My Sons now has 46 businesses in the U.S., as well as a business in Mexico City. Whether customers are moving across town, across state lines or 1000 miles or more away, All My Sons Moving & Storage delivers the best in family friendly moving services. For more information, visit AllMySons.com and http://www.facebook.com/AllMySons.