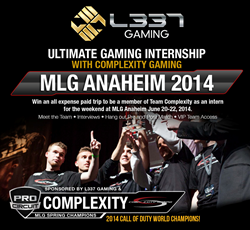 Once in a lifetime opportunity chance to take part in an all expenses paid internship with Complexity Gaming at MLG Anaheim 2014.
(PRWEB) May 14, 2014
L337 Gaming alerts gamers of the wind down of its call for entries in the pursuits to offer gamers a chance at a once in a lifetime opportunity to take part in an all expenses paid internship with Complexity Gaming at MLG Anaheim June 20-22, 2014. As part of the internship, the winner will get to meet Team Complexity, participated in interviews, and join in pre and post match activities. The winner will also get exclusive VIP access to the team and the MLG Anaheim event.
The deadline approaches and entries must be submitted by 11:59PM PT on May 14, 2014. This no purchase necessary to enter the sweepstakes and anyone can sign up at Newegg.
Visit http://promotions.newegg.com/nepro/14-1849/index.html to enter the sweepstake for a chance to win.
Grand prize includes a L337 Gaming Gank Domination Motherboard, an XFX R9 video card, XFX PRO power supply, XFX BRAVO PC case, and the weekend with Team Complexity for an internship at MLG Anaheim.
Other prizes include the following:
One (1) First Prize of one (1) L337 DOMINATION motherboard (ARV $314.99)
One (1) Second Prize of one (1) L337 MACHINE motherboard (ARV $239.99)
One (1) Third Prize of one (1) L337 DRONE motherboard (ARV $119.99)
About L337 Gaming by ECS (Elitegroup Computer Systems)
L337 Gaming is a manufacturer or high performance gaming motherboards and is a division of ECS (Elitegroup Computer Systems). This includes their GANK professional gaming motherboard series available in Domination, Machine and Drone performance classes. L337 Gaming aspires to become an integral part of the ever changing and constantly evolving world of gaming. L337 Gaming strives to involve itself in the gaming community though Competitive events, partnerships with game developers, sponsorship of professional gaming teams and outreach programs to reach the everyday global gaming community through social endeavors. Their goal is to touch a part of every gamers lives in one way or another and in return gamers will help L337 continue to evolve the gaming community and take it to the next level. Learn more at http://www.l337gaming.com.
About Complexity Gaming
Complexity Gaming® is the premier competitive gaming brand in the Americas. Owned and operated by some of the finest minds in the industry, Complexity has a long heritage of championship caliber teams, superstar players, news reporting and gaming entertainment ventures. Complexity's gamers have been featured by numerous mainstream media outlets like Sports Illustrated, New York Post, Los Angeles Times and the Wall Street Journal. They have also appeared on live television programs such as CBS' 60 Minutes and the Championship Gaming Series, have been featured in film documentaries and were a focus of the book "Game Boys." The company's online properties have ensured that Complexity remains a premier destination for media content in the gaming sector. Learn more at https://www.complexitygaming.com.