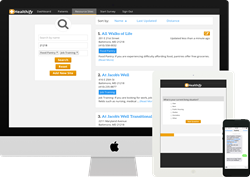 Social needs are healthcare's blindside and we are well on our way to fixing this problem.
New York, NY (PRWEB) May 14, 2014
Healthify, a healthcare technology startup founded to help insurers better address patients' costly social health needs, today announced that it has closed a $500,000 seed round. Healthify is part of the Blueprint Health network and was founded by a team of Johns Hopkins alumni. The round closing, which coincides with Healthify's launch in New York and Maryland, was led by a group of angel investors.
Social determinants of health – issues like food insecurity, housing, and substance abuse – that go unaddressed are linked to an additional $85 billion a year in Medicaid spending and poor health for over sixty million Americans. Healthify helps insurance plans and providers manage, track, and engage with these determinants to improve quality and reduce the cost of care.
"Healthify is really excited to have a tremendous group of investors backing us," said Manik Bhat, Co-Founder and CEO of Healthify. "This seed-round allows us to help managed care plans better care for their members' needs by integrating a more robust analytics solution into our platform. Social needs are healthcare's blindside and we are well on our way to fixing this problem. "
Designed for use at the point of care, Healthify already has deals with two large Medicaid managed care plans to help address the social and behavioral health needs of some 20,000 patients in New York and Maryland. The platform is currently offered in both English and Spanish.
"Healthify has built strong relationships with our clients like Universal American," added Manik Bhat. "We are excited to leverage our partnerships with insurers to improve preventative care and get strong data on social services usage."
Patients take a quick questionnaire in the waiting room or with staff to assess their risk for issues ranging from employment status to substance abuse. Based on this assessment, they are referred to the appropriate federal, state, or community services that can treat that need. The care team is then able to follow up by sending interactive text messages through a population dashboard.
Healthify's approach not only allows case managers to handle more patients but also helps insurers control costs. Healthify is poised to dramatically improve health outcomes among the most vulnerable populations and help the Medicaid program become more sustainable.
About Healthify:
Healthify is a New York City based company that helps insurance plans and providers improve the quality and reduce the cost of care by addressing their members' social needs. Healthify was founded by five graduates of Johns Hopkins University. The team worked together in urban clinics to connect patients to social services and has over a decade of experience building enterprise software solutions. Healthify is a member of the Blueprint Health family and has been recognized as one of the fifty most innovative healthcare companies by TEDMED. To learn more about Healthify and request a demo, visit http://www.healthify.us.