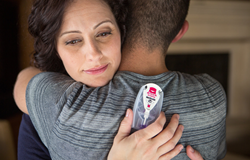 San Diego, CA (PRWEB) May 15, 2014
A new product has moms fighting on Facebook over the question: Are moms to blame for kids who try drugs? Should moms "snoop" around to look for drugs? Do they have a right to do so?
Parents everywhere are reacting to Touch&Know®, a law enforcement-grade drug test available to the public for the first time ever. It allows the user to safely test any found substance for 22 drugs immediately, including heroin, crack, cocaine, ecstasy, methamphetamines, amphetamines and other highly dangerous drugs, including bath salts and designer drugs.
A recent controversial post on Facebook gained over 16,000 likes and 5900 shares with parents sounding off against each other. With responses ranging from enthusiastic support to passionate preaching that it is an infringement on children's privacy and avoids communication with your child. Some believe that parents are ALWAYS to blame, and others share their experiences of how their own families were blindsided by drug use after believing they had done everything right.
"You do what you gotta do; a child is not gonna always tell you the truth. You parents who claim your child would actually tell you the truth that they're on drugs, are the kids who know their parents will let them get away with it." - Michelle M.
"How about be a parent, not Big Brother! Jeez folks!"- Angie P.
This is proof that the so-called "mommy-wars" are far from over.
Touch&Know® is the only safe and reliable home drug test kit approved to sell at retail that tests and identifies substances directly. It is the same test used by law enforcement around the world, and sells at retail for only $19.99.