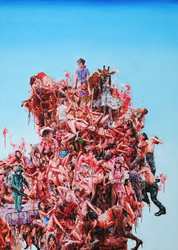 A sale featuring over 30 Contemporary Asian paintings, photographs, prints, and sculptures that explore portraiture, identity, tradition, and trend in diverse and unexpected ways.
New York / Berlin (PRWEB) May 14, 2014
artnet Auctions is pleased to present Tradition and Trend: Contemporary Asian Art, a sale featuring over 40 Contemporary Asian paintings, photographs, prints, and sculptures that explore portraiture, identity, tradition, and trend in diverse and unexpected ways. The sale offers works by Hiro Ando, Lee Byung Ho, Nobuyoshi Araki, Zeng Fanzhi, He Hongbei, Tu Hongtao, Zhang Huan, Shi Lifeng, Yue Minjun, Sheng Qi, Han Yajuan, Liu Ye, and Ren Zhenyu, among others. Estimates range from US$3,000 to 40,000.
One highlight of the sale is a large-scale oil on canvas painting by Contemporary Chinese artist Tu Hongtao (b. 1976) entitled Dancing Fantasy (2007), estimated at US$20,000 to 30,000. The work features iconic imagery from the artist's acclaimed oeuvre—a literal mountain of scantily clad figures, clamoring and reveling together in an orgiastic, stage-like setting against a vivid blue sky.
Photographs are an exciting aspect of the sale, including Untitled (c. 1990), one of the most compelling of the erotic and thoughtfully staged bondage photographs by legendary Japanese photographer Nobuyoshi Araki (b. 1940), depicting a beautiful, demure Japanese woman in traditional robes seated on a leather couch. This gelatin silver print is an early and poignant example of Araki's work, coming to artnet Auctions from a top European private collection, and is estimated at US$4,000 to 6,000.
The sale features a selection of important prints, including Mask Series no. 3 (2006), a silkscreen print in colors by one of the most famous Asian artists working today, Zeng Fanzhi (Chinese, b. 1964), estimated at US$6,500 to 8,500. Zeng is renowned for his ability to beautifully translate the iconic themes from his paintings into prints. In this work, two men stand together dressed in Western-style business suits, smiling and gazing serenely outward, their faces covered by white 'masks' that literally and metaphorically hide their emotions and identity—a signature of the artist's celebrated body of work.
Tradition and Trend: Contemporary Asian Art is live for bidding on artnet Auctions from May 13 through 22, 2014, and is on view at http://www.artnet.com/auctions/search/?q=keyword-asiacon_2014-category-all-artworks-active-auctions-only/&utm_campaign=pressrelease&utm_source=51414tradition&utm_medium=link.

For more information about this sale, please contact artnet Auctions specialist:
Heather Russell
Senior Specialist, Post-War & Contemporary Art
T: +1-212-497-9700 ext. 692
hrussell(at)artnet(dot)com
About Us
artnet is the leading online resource for the international art market. Established in 1989, artnet provides reliable information and market transparency to art collectors. With our comprehensive suite of products, artnet can empower anyone with a passion for art.
With 24/7 worldwide bidding, artnet Auctions & Private Sales is a dynamic marketplace for collecting art. Our online auction platform provides a unique collecting experience with seamless flow between consigners, specialists, and collectors. Our auctions and private sales community influences new collectors and inspires everyone to collect art.
http://www.artnet.com | http://www.artnet.de | http://www.artnet.fr
Artnet Worldwide Corporation, 233 Broadway, 26th Floor, New York, NY 10279, USA