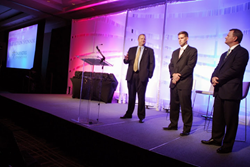 This event is about celebrating the abundant accomplishments of those in this community. - Craig Weisbaum, President, TalkingTree Creative
Tyson's Corner, VA (PRWEB) May 15, 2014
Thursday May 1st, 2014 marked the 6th annual SECAF awards gala. The event is held every year by the organization to mark the achievements of government contractors who yielded exceedingly impressive results and contributions to the surrounding contracting community. The event was emceed by board members of the organization Scott Brezler, Mark Moore and Cameron Hamilton. The finalists of each award were presented to the crowd with a custom video telling their story. Every detail of the design and production of the event was handled by TalkingTree Creative, which included centerpiece design, stage design and lighting, room layout, audio/visual engineering, and production of presentations and finalist videos. TalkingTree Creative's Production Coordinator Kaitlyn McNaney said, "As someone working behind the scenes, I tend to notice every glitch, but I couldn't of been happier with the outcome of the gala. I though it went flawlessly." President of TalkingTree Creative, Craig Weisbaum noted, "It's really obvious this was a special night for everyone involved, this event is about celebrating the abundant accomplishments of those small businesses in the government contracting community."
About TalkingTree Creative:
TalkingTree Creative is a video and event production company that creates memorable experiences and lasting impressions on screen, on stage, and online. Headquartered in Washington D.C., TalkingTree Creative has serviced clients in both the government and private sectors, becoming a leader in the event production and video production field, infusing its work with elements of creativity, entertainment, and messaging. For more information about TalkingTree Creative, please visit http://www.talkingtreecreative.com.
About SECAF:
Founded in 2001, the Small and Emerging Contractor Advisory Forum (SECAF) enables the small and emerging government contractor to achieve maximum growth rates in a highly competitive marketplace. Providing members with business resources, access to influencers, government agencies, advocacy opportunities and education, the group is an important resource for a growing company. SECAF also serves the medium to large government contractors, providing invaluable introductions to specialized small businesses that enable the overall contracting community to work successfully in tandem. With more than 350 members, the organization boasts one of the highest retention rates in the Washington, DC metropolitan region. For more information about SECAF visit http://www.secaf.org.