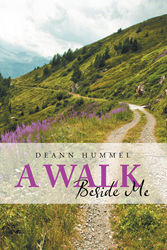 We are so blessed that we were able love and take care of Luke even though some days were hard
Fort Collins, CO (PRWEB) May 15, 2014
Just before the age of three, author Deann Hummel's son, Luke, was diagnosed with Duchenne Muscular Dystrophy, a rare progressive disease that affects all voluntary muscles and, in later stages, involves the heart and breathing muscles.
When doctors predicted Luke wouldn't live beyond his late 20's, Hummel dedicated her life to helping her son. Her strong relationships with family and courage derived form her faith served as a guide through the short years of her son's life.
"We are so blessed that we were able love and take care of Luke even though some days were hard," Hummel said, "Luke showed us that no obstacles were going to stand in the way of his happiness and joy, he lived his life to the fullest and always with a smile on his face."
After Luke's passing, Hummel wrote this encouraging book to not only celebrate her son's life but to also inspire readers to live as wholly and happily as Luke had lived. Hummel believes the motivational story of her son and his legacy on Earth is a gift that needs to be shared.
"A Walk Beside Me"
By: Deann Hummel
ISBN: 978-1-4917-2477-4 (sc)
978-1-4917-2479-8 (hc)
Available at Barnes and Noble, Amazon and iUniverse
About Deann Hummel
Deann Hummel, educated in cosmetology and interior design, runs her own gift basket business, Unique Gifts by Design. She also helps operate her husband's sheet metal shop. Hummel currently lives in Loveland, Colorado.