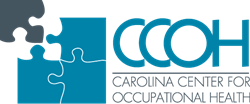 North Charleston, SC (PRWEB) May 15, 2014
Medical examiner certification is now a requirement for medical professionals who perform Department of Transportation (DOT) physical examinations. Previously, any individual holding a medical license could perform a DOT examination.
"Medical examination certification is now required because there are such specific requirements and the Department of Transportation is enforcing these regulations to a degree not seen before," says Dr. Weissglass.
The specific regulations and qualifications include drivers' vision, hearing, cardiovascular fitness, pulmonary fitness, lifting ability, flexibility, overhead extension capabilities, and risks for seizures or diabetes, waiting periods after illness or injury, and more.
To obtain the certification, Dr. Weissglass and Mrs. Boyd received in-depth training in regards to DOT medical examinations and sat for a national written examination. For certification compliance, renewal training is required every five years, and renewal certification is required every 10 years.
"This certification has emphasized to us what the FMCSA prioritizes as health and safety hazards for drivers," said Mrs. Boyd. "Educating our clients, keeping our drivers and the public safe on the roads is a priority."
In addition to the medical examiner certification:
Dr. Weissglass is certified in Family Medicine by the American Board of Family Practice and in Occupational Medicine by the American Board of Preventative Medicine.
Mrs. Boyd earned certifications from the American Academy of Nurse Practitioners, the state of New York, the American Heart Association and the National Registry of Certified Medical Examiners.
The Carolina Center for Occupational Health provides correctional medicine and complete occupational medicine services to more than 300 companies in Charleston, Berkeley and Dorchester County. The services include: injury care, drug screens, employment physicals, DOT exams, flu shots and other vaccinations. To learn more, visit http://www.ccohcares.com or call 843.554.1029.