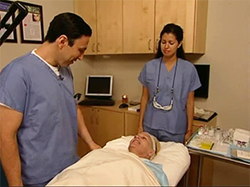 Los Angeles, CA (PRWEB) May 15, 2014
CoolSculpting® is a patented, FDA approved procedure that employs a targeted cooling process to rid the body of unwanted fat cells. Research indicated that fat cells are particularly susceptible to freezing, so the device can be targeted only at the fat cells underneath the skin, leaving the surrounding tissue untouched. The targeted fat cells die once they are frozen and crystallized. In a process called "apoptosis" that starts several weeks after the treatment, the fat cells that were frozen start to shrink and disappear. The body will gradually and naturally eliminate these cells thereby reducing the thickness of the fat layer.
"I've said many times that I practice evidence based medicine," says Dr. Simon Ourian, Medical Director of Epione Beverly Hills, "and I believe that this technology will benefit my patients. Zeltiq has conducted multiple clinical studies showing significant treatment results. CoolSculpting removes fat without the complications and downtime associated with traditional surgical procedures."
Coolsculpting offers non-invasive fat reduction, without the need for surgery or needles. Once the area of treatment is selected, a device that draws up the bulge of fat between two cooling panels will be attached to that area. The patient will feel a sense of pressure and a firm pull, ensuring that the applicator is delivering a precisely controlled cooling to the area. Typical treatment time is an hour, during which the patient is free to use their iPad, read a book, or just relax. Once the treatment is concluded patients can immediately return to their normal activities.
"Patients may start to see results in as few as three weeks," says Dr. Ourian, "with the most dramatic results reported after two months. Once eliminated by the body, the treated fat cells are gone for good."
Dr. Ourian has been a pioneer in laser technology and non-invasive aesthetic procedures including Restylane, Juvéderm, Radiesse and Sculptra. These treatments are used for the correction or reversal of a variety of conditions such as acne, acne scars, skin discoloration, wrinkles, stretch marks, varicose veins, cellulite, and others. More information about Coolsculpting can be found on Epione's website.