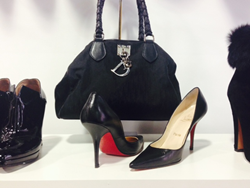 It's about bringing access to a curated collection of consigned clothes, handbags, and accessories online. Now anyone can shop upscale consignment boutiques 24/7 on Snobswap.
Washington, DC (PRWEB) May 14, 2014
Snobswap.com, an online marketplace for pre-owned designer clothes and accessories, is bringing the nation's best designer consignment boutiques into the digital era. Local brick and mortar stores from New York, Los Angeles, Miami, Washington D.C., San Francisco and Las Vegas are now using Snobswap as their e-commerce platform, reaching a larger potential market of savvy fashion shoppers than ever before.
The luxury consignment business is growing faster than ever. At the heels of the recession and with the rise of the sharing economy and people embracing the fiscal and environmental benefits of shopping secondhand clothing. As a result, online resale is one of the fastest growing sectors of online retail, which eMarketer predicts to grow at 16.4% through 2016.
While shopping a consignment boutique in New York, Snobswap co-founder Elise Whang, scored a secondhand, authentic Louis Vuitton bag for less than half of the retail price. Upon returning to Washington DC, she longed to shop the same boutique online but could not find an organized online collection of upscale consignment boutiques. Together with co-founder and sister Emily Dang, they were determined to bring the "thrill of the hunt" and access to consignment boutiques online.
Snobswap.com provides an online destination to shop the nation's best consignment boutiques. Bringing customers a curated shopping experience, only select boutiques that carry high-end and contemporary brands such as Chanel, Christian Louboutin, Hermès, Prada, Louis Vuitton, Isabel Marant, Celine, Alexander Wang, and 3.1 Phillip Lim are invited to join.
Second Time Around, the country's largest consignment retailer of designer clothing and accessories, recently joined the fast growing list of partners. With more than 40 stores nationwide and named one of Vanity Fair's top three consignment boutiques, Second Time Around is a one-stop-shop for in-season on-trend pieces for up to 70% off. "There is a high demand from stores to join Snobswap, with a waitlist that grows every day," says Whang.
"Collaborating with Snobswap to expand our online presence has been extremely worthwhile for STA. We began with posting designer merchandise from our Madison Avenue location and based on the customer response and excitement, we have plans to add items from numerous STA locations to their site." – Bill Soncini, President & CEO of Second Time Around
Boutiques have seen significant traction with online sales after joining Snobswap. Snobswap also offers a peer-to-peer ("P2P") marketplace where users can sell, shop and swap pre-owned designer fashion. The partner boutiques benefit from the P2P marketplace's traffic to the site.
Recently featured in O, The Oprah's Magazine as the best site to nab designer clothes for less and voted Best of the Web 2013 by InStyle magazine,Snobswap has seen tremendous momentum and activity. The company's membership base has grown 500% year over year.
"We always thought consignment shopping was a great way to shop high-end items on a budget – especially when we still had school loans to pay," says co-founder Emily Dang. "It's about bringing access to a curated collection of consigned clothes, handbags, and accessories online. Now anyone can shop upscale consignment boutiques 24/7 on Snobswap."
"Snobswap is changing how people shop. From access to best local consignment stores across the country and top closets, members can bargain or swap their way to the best deals," adds Elise Whang. Snobswap also charges one of the lowest seller's fees [15% compared to other resale sites that charge 18 to 40%] making it one of the most economically friendly resale websites to monetize your closet and reduce your carbon footprint.
About SNOBSWAP
Snobswap is the premier online platform to sell, swap and shop pre-owned designer clothing, handbags, shoes and accessories. Snobswap is the only online marketplace that brings access to the best consignment stores and top closets online. Snobswap mobile app is coming out this summer.